A spinal deformity has caged Leela's childhood, help her!
A spinal deformity has caged Leela's childhood, help her!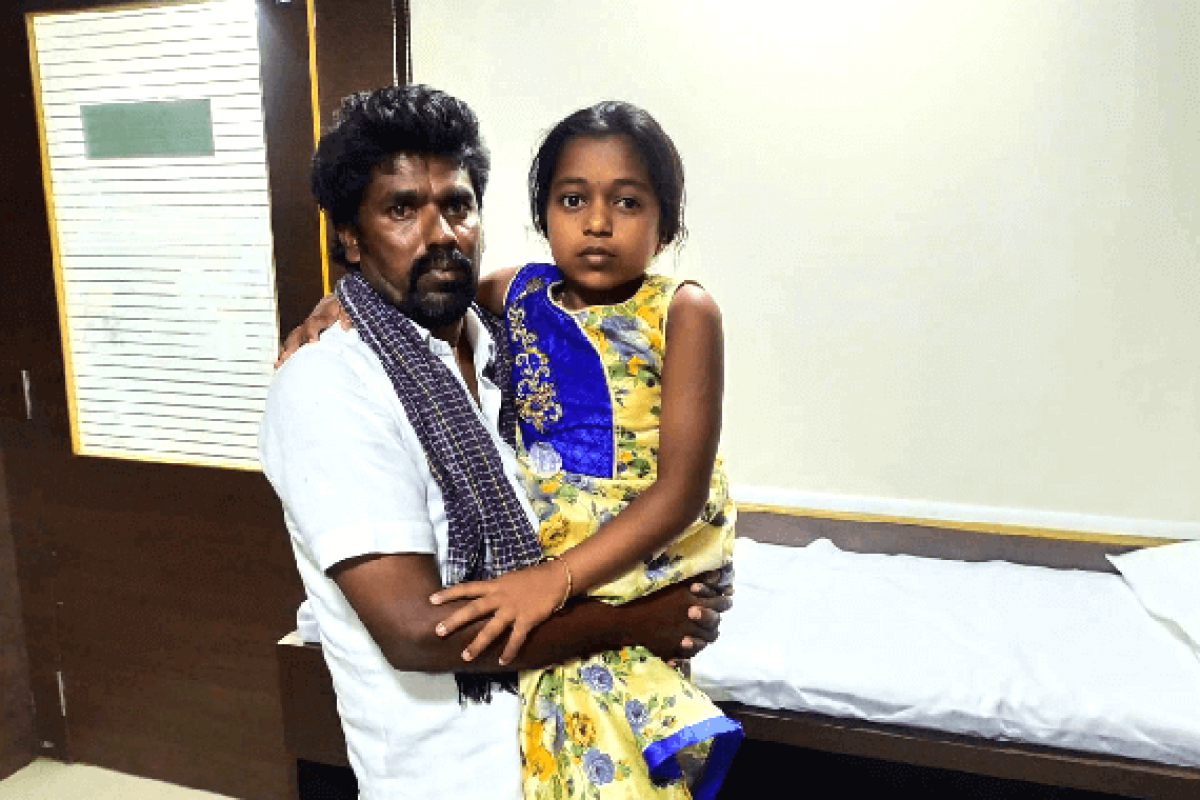 "Leela was fine and healthy until two years ago. Now she can not sit or stand straight and can not play with he brother as cheerfully as she used to. I have tried all possible ways to gather funds but have failed miserably. I would love to see her playing and running around again. Only you can only help me cure my daughter. Please, please help!"
- Mr. Ramachandra Gowda ; (Father)
Leela is an 11-year-old girl from Thippur, Karnatka. She is a playful little girl suffering from a rare spinal condition. Her father, Mr. Ramachandra Gowda, and mother, Mrs. Anusaya M. G. work as farm labourers. They collectively earn around ₹ 5,500/- per month. Leela has a younger brother, Jayant (8 yrs).
Three years ago, while playing with her little brother, Leela's body suddenly leaned to one side and she fell. It was from this moment in her life that Leela could not stand or sit straight. Her parents immediately rushed her to a local hospital. They thought that it was a back injury. But to their surprise, it was discovered that Leela is suffering from Congenital Thoracolumbar Kyphoscoliosis. It is a spinal deformity, which occurs due to the failure of vertebral formation when the child's body is developing in the womb.
Leela's parents were in extreme distress as they enquired about her treatment. The doctors suggested bilateral posterior instrumentation and deformity correction vertebral column resection as a part of her treatment.
Due to the COVID19 lockdowns, the parents could not take Leela for her treatment and now her condition has worsened. Leela's parents have brought her to Bhagwan Mahaveer Jain, Bangalore for the treatment. But can not proceed with the treatment as it's estimated cost is ₹ 5,00,000/- (Rupees Five Lakhs Only) which is beyond their financial capacity. They are in desperate need of your help.
How Can You Help?
-You can Donate to the Fundraiser
-You can share Leela's story on Facebook and WhatsApp so that their story reaches to more people like you who will impact her life
-You can Volunteer to Raise Funds and save Leela's life.
50% Tax Exemption under 80(G)
FUNDS DONATED WILL BE USED FOR Leela's TREATMENT
Kindly also share the fundraiser with your family and friends and help them to reach the goal. We will be grateful for your help!
Supporting Documents