Help 2-Year-Old Midhun Fight Through an Ailment!
Help 2-Year-Old Midhun Fight Through an Ailment!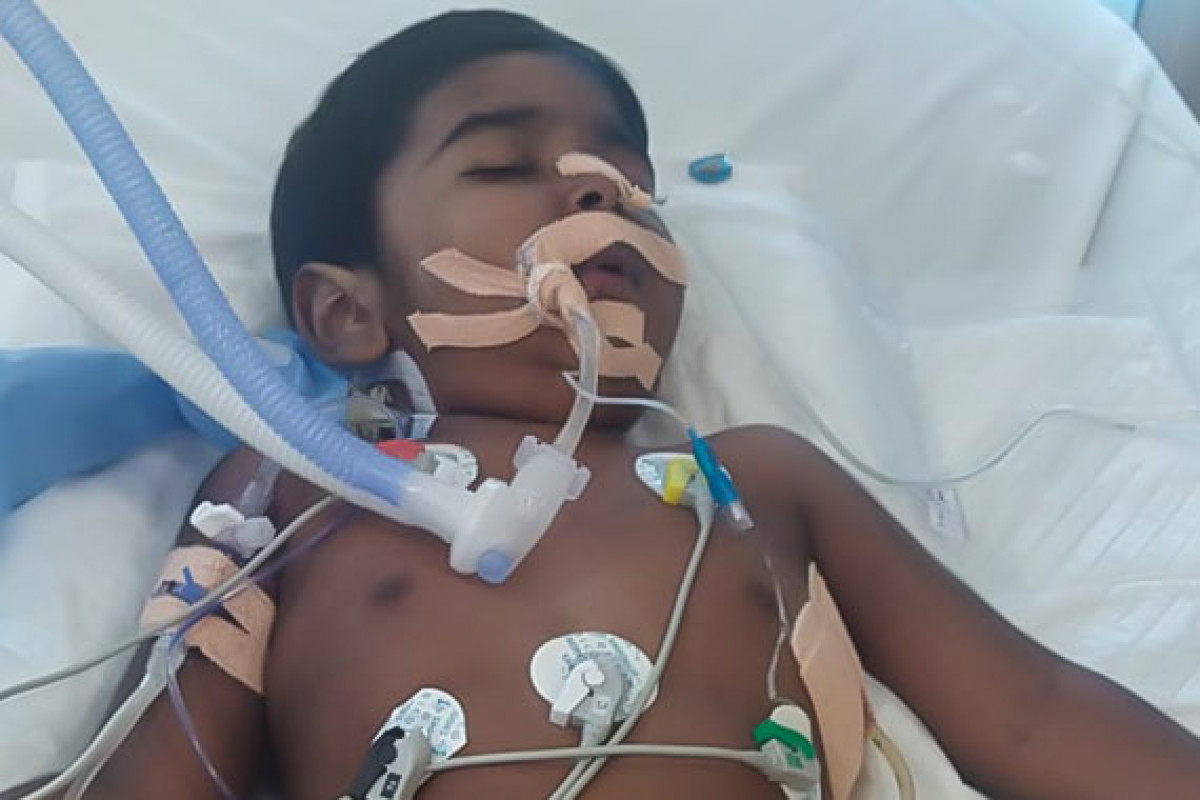 "My son Midhun brought a lot of joy in our family when he was born. His infectious laughter used to fill the house with happiness, and now look at him, hooked to a hospital bed covered in needles and pipes. Nearly a month ago, he was severely ill, so we took him to the doctor. The doctor said he has pneumonia and advised us to admit him to the hospital. His condition worsened day by day and now it has reached a critical condition. We are trying very hard to help him, but everything seems to fail at this point."-
Mr. Samiji ; (Father)
Midhun is the two-year-old son of Mr. Samiji and Mrs. Sanjini hailing from Kerala. He was diagnosed with severe Pneumonia in November 2022. He was admitted to Lakeshore Global lifecare Hospital, Kerala on the doctor's advice. Because the Pneumonia had reached extreme levels, he was immediately given ventilator support. His health worsened day by day, and this lead to him suffering from Steroid Resistant Nephrotic Syndrome, which is a heterogeneous disease that includes an immune disorder. The doctors have proposed a prolonged ICU and Ventilator support as a part of Midhun's treatment.
The estimated cost of the treatment is Rs. 10,00,000/- (Rupees Ten Lakh Only). Midhun's father is a worker at an automobile workshop and earns a minimal income which barely covers their monthly expenses. They have spent over five lakh on Midhun's treatment so far. They had to sell their belonging and take a loan in order to afford the required treatment. Now, they are left with no source of income and need help to save their son.
"I am the only breadwinner in my family. The sum of money I earn is too less to manage the expenses of my son's treatment. It's almost impossible to arrange the money in time to save my son. I am losing hope. Can you please help save our son? -Mr. Samiji (father)
How Can You Help?
-You can Donate to the Fundraiser
-You can share Midhun's story on Facebook and WhatsApp so that their story reaches to more people like you who will impact his life
-You can Volunteer to Raise Funds and save Midhun's life.
50% Tax Exemption under 80(G)
FUNDS DONATED WILL BE USED FOR Midhun's TREATMENT
Kindly also share the fundraiser with your family and friends and help them to reach the goal. We will be grateful for your help!
Supporting Documents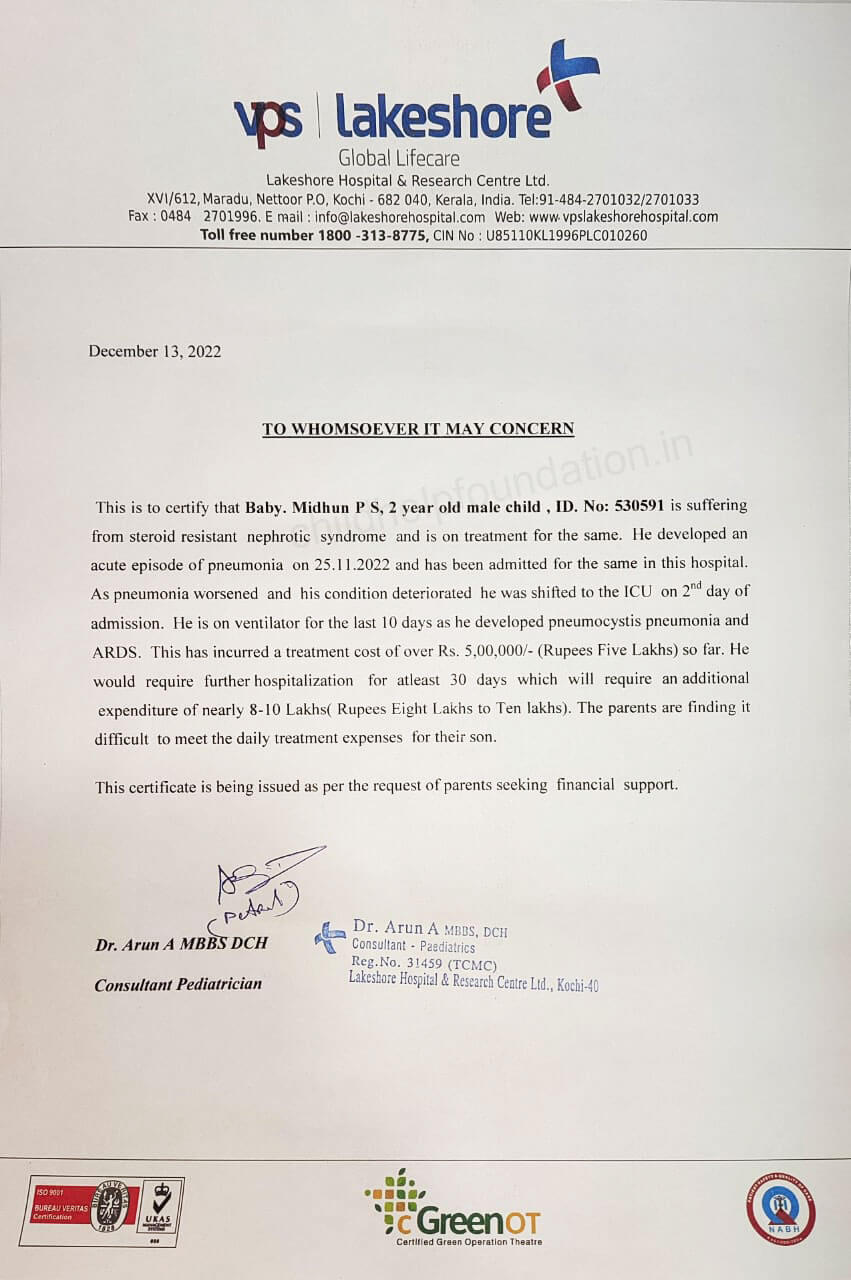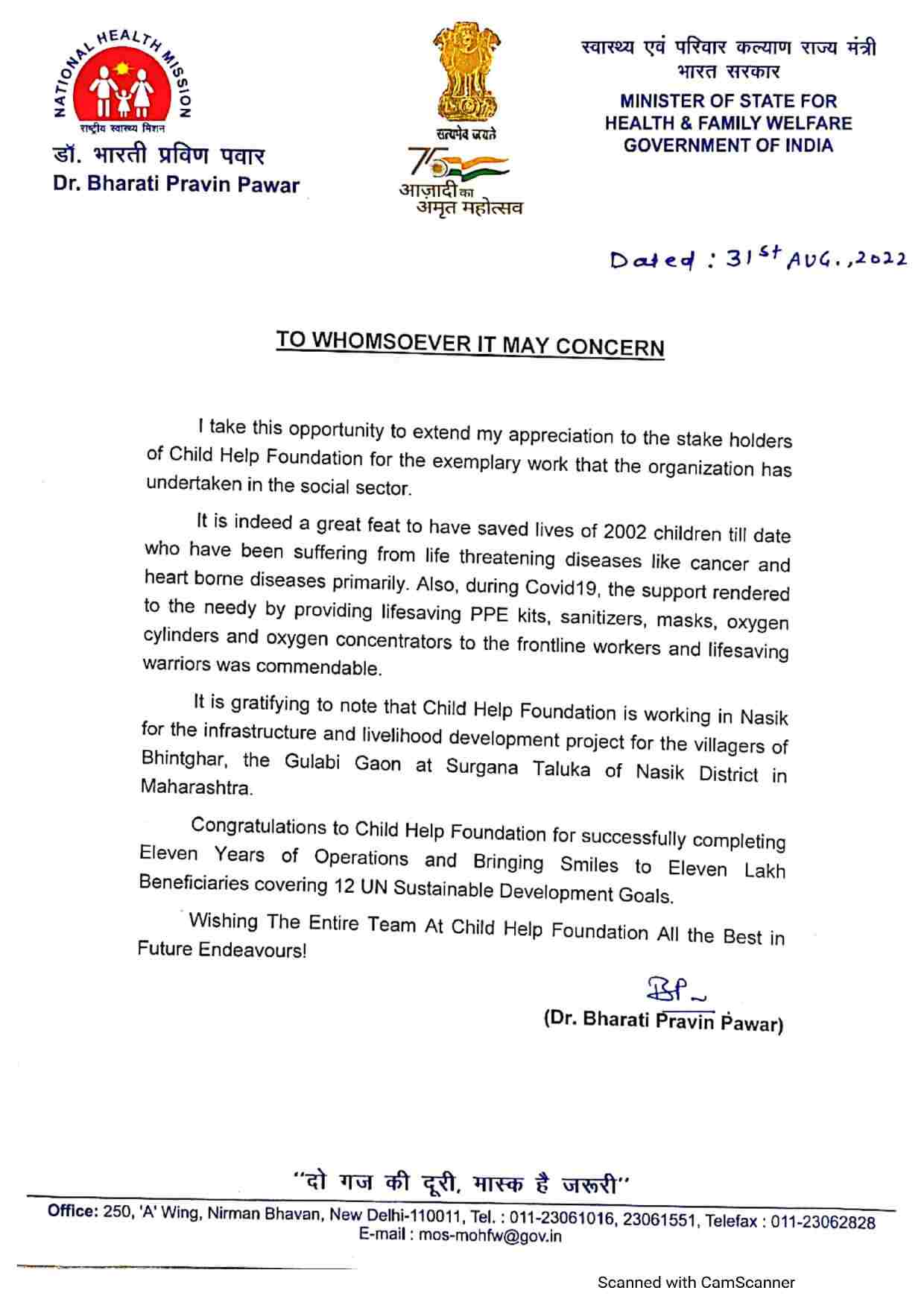 | Name | Donate Amount | Date |
| --- | --- | --- |
| Krishnakumari Gopalakrishnan | INR 500 | 2023-01-28 20:46:47 |
| anonymous | INR 5000 | 2023-01-24 15:38:51 |
| Shivani Maurya | INR 1000 | 2023-01-18 15:33:03 |
| Siddhant Gwalior | INR 500 | 2023-01-17 12:46:48 |
| Debarpita Bhattacharyya | INR 250 | 2023-01-13 14:29:31 |
| anonymous | INR 500 | 2023-01-13 12:32:52 |
| anonymous | INR 1000 | 2023-01-09 17:27:55 |
| anonymous | INR 1000 | 2023-01-08 14:14:39 |
| Manu | INR 500 | 2023-01-07 15:57:15 |
| Vishal | INR 250 | 2023-01-07 11:33:51 |
| Azharuddin Shajakhan | INR 1000 | 2023-01-05 22:20:26 |
| Prayaan Varshney | INR 1000 | 2023-01-04 17:25:59 |
| anonymous | INR 2500 | 2023-01-04 14:52:03 |
| anonymous | INR 500 | 2023-01-02 12:49:10 |
| anonymous | INR 500 | 2022-12-31 14:32:46 |