Help Little Inayath Fight Thalassemia Major
Help Little Inayath Fight Thalassemia Major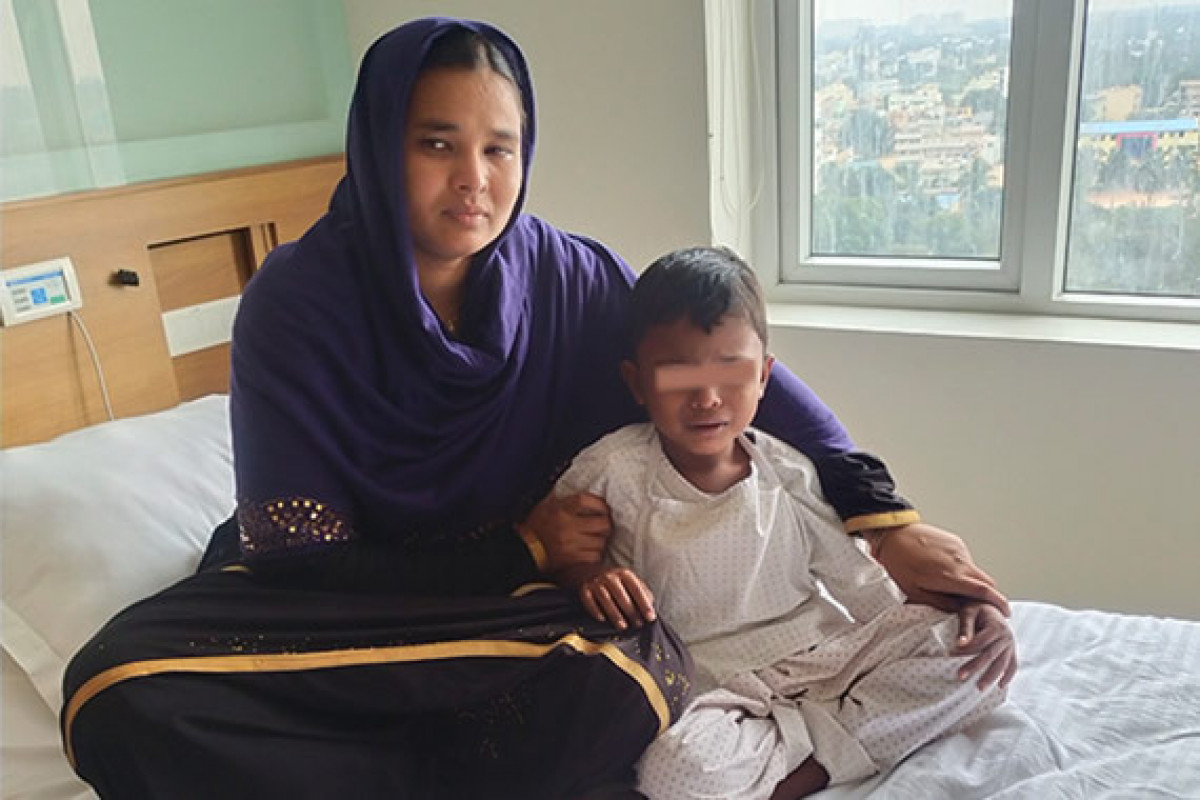 "Our little son was fine all these years, suddenly he fell ill and is now in a critical condition. The doctors have diagnosed him with a disease that I can't even pronounce. They have proposed a surgery which I can't afford."-
Gulam Mahimood ; (Father)
Gulam Mahimood still remembers the eighteenth day of April 2015, when the eldest son in his family was born. It was a hot sunny afternoon when he first saw little Inayath and fell in love with him. He still fondly remembers little Inayath's first cry. But Gulam Mahimood never thought even in his nightmare that Inayath would suffer from deadly Thalassemia Major, a critical blood disorder. Inayath, who is seven years old now suffers from coughing fits, severe pneumonia, severe weight loss, blood loss, and extreme body weakness. He needs blood transfusions every ten to fifteen days. Currently, he is admitted to the Narayana Hospital in Bengaluru. The doctors there have proposed an Haplo match TCR Alpha/ Beta and CD 45RA depletion therapy, which would cost an estimated Rs. 38,80,000/- (Thirty-Eight Lakhs Eight Thousand Only)
Inayath's parents, Gulam and Yasmeen Mahimood belong to the lower middle-class category, Gulam works at a nearby shop and earns a meager salary. He is the only breadwinner in the family. They live in a small dingy room on the outskirts of Kushtagi Koppal, Karnataka. Moreover, Inayath has a little sister of age three. It is at this moment that the family needs support from generous donors like you. So please come forward and donate generously to the medical crowdfunding case.
"We are ordinary people, we don't have enough savings or assets to fund our son's surgery. We have already sold all of our major assets and are looking forward to mortgaging our only house. We are feeling hopeless at this point. So please help us as much as you can. I plead with you." – Yasmeen Mahimood (Inayath's mother)
How Can You Help?
-You can Donate to the Fundraiser
-You can share Inayath's story on Facebook and WhatsApp so that their story reaches to more people like you who will impact his life
-You can Volunteer to Raise Funds and save Inayath's life.
50% Tax Exemption under 80(G)
FUNDS DONATED WILL BE USED FOR Inayath's TREATMENT
Kindly also share the fundraiser with your family and friends and help them to reach the goal. We will be grateful for your help!
Supporting Documents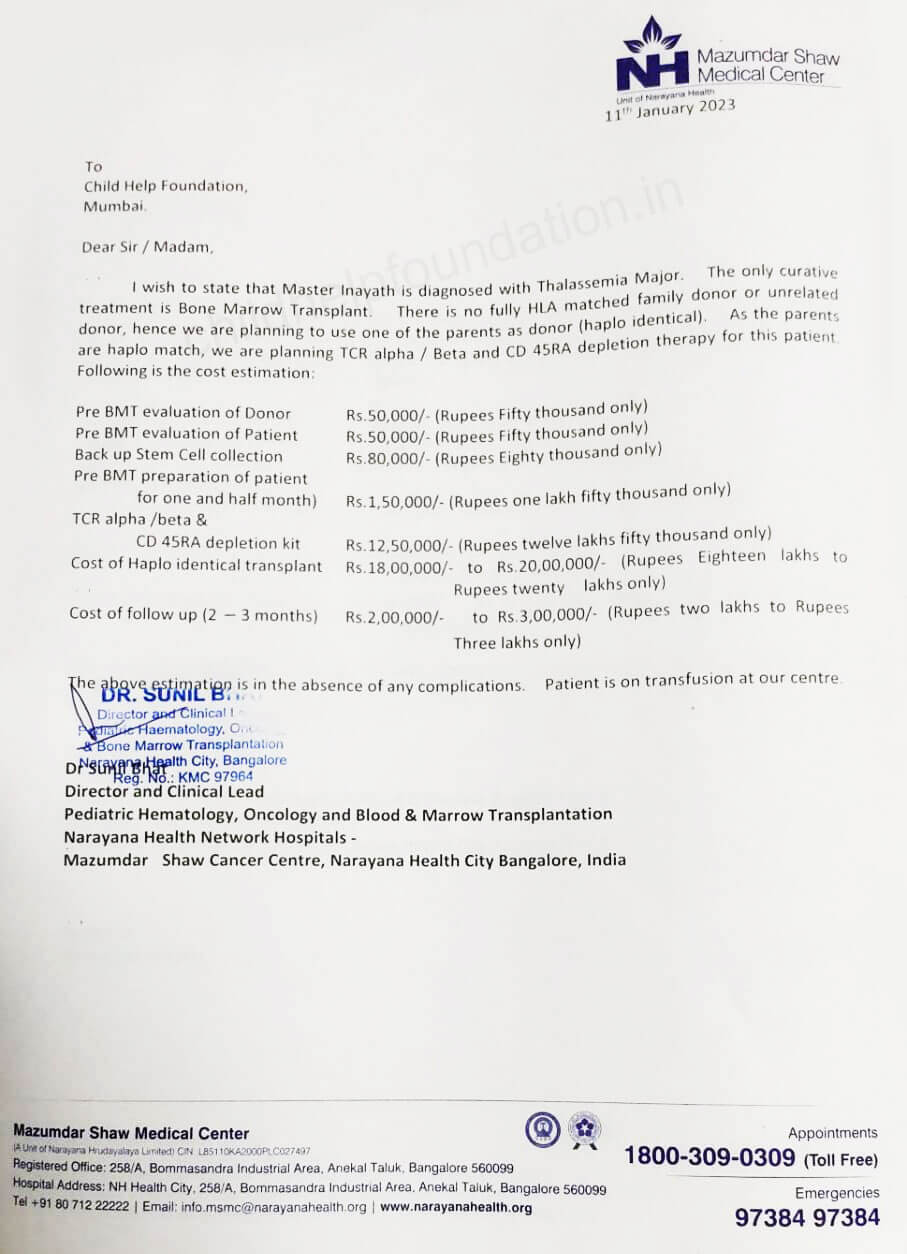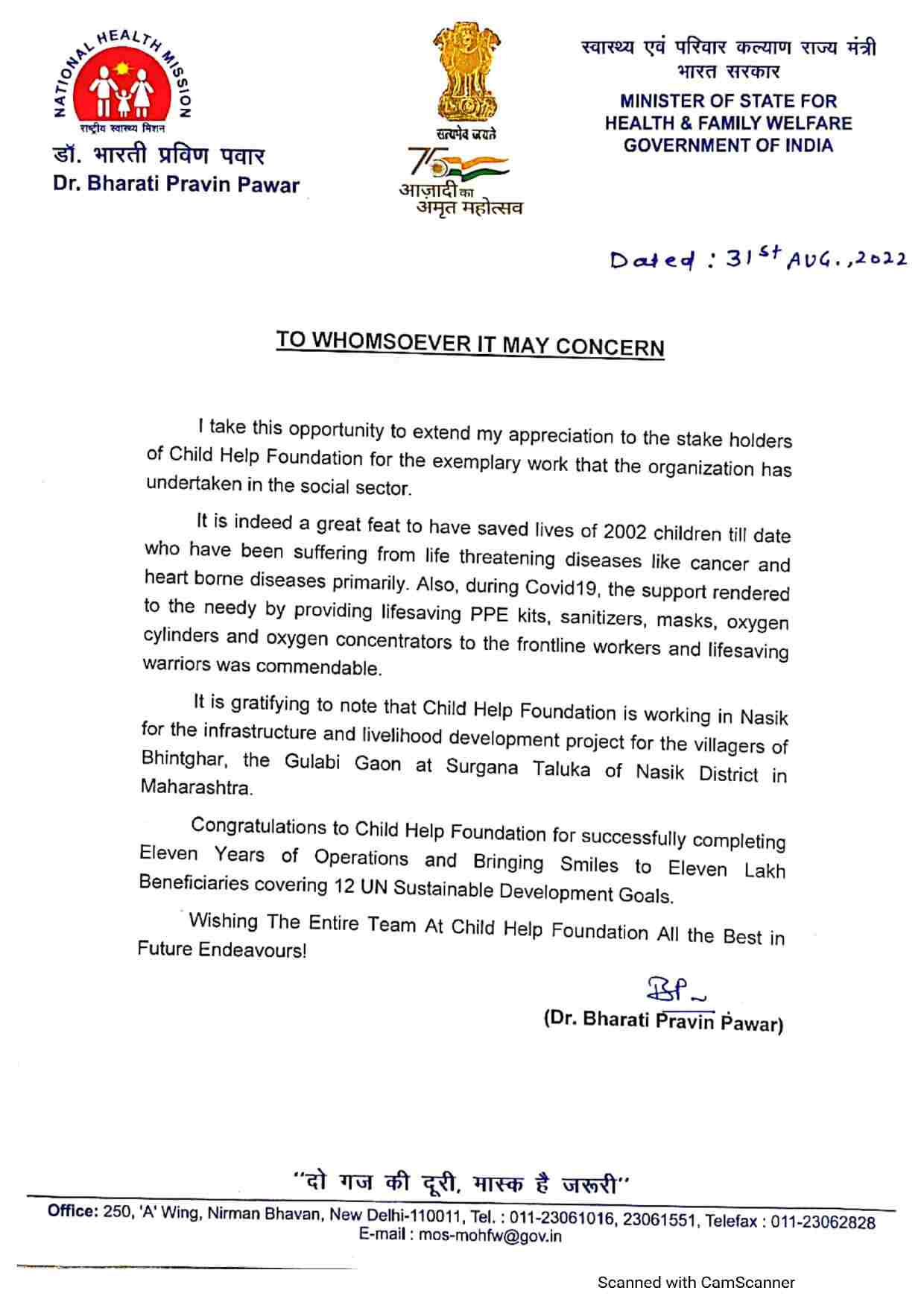 | Name | Donate Amount | Date |
| --- | --- | --- |
| anonymous | INR 5000 | 2023-03-19 17:10:06 |
| anonymous | INR 500 | 2023-03-02 16:20:00 |
| Rakesh P | INR 1000 | 2023-02-20 22:28:24 |
| Prathima | INR 1000 | 2023-02-15 17:33:33 |
| Prasun Hota | INR 1000 | 2023-02-12 23:28:00 |
| anonymous | INR 500 | 2023-02-08 18:13:46 |
| Chiitresh Singh | INR 500 | 2023-02-08 14:22:13 |
| anonymous | INR 500 | 2023-02-07 17:39:38 |
| Ayushi Srivastava | INR 300 | 2023-02-07 09:09:14 |
| anonymous | INR 1000 | 2023-02-06 11:38:09 |
| anonymous | INR 1500 | 2023-02-04 11:46:27 |
| SHASWAT SAHU | INR 500 | 2023-02-03 11:00:42 |
| anonymous | INR 1000 | 2023-02-02 16:31:01 |
| Thaneshwari Devi | INR 1100 | 2023-02-02 11:07:31 |
2023-05-30 17:59:14

Inayath BMT would be planned Tentatively by the 1st week of June

2023-05-25 17:35:31

Inayath BMT would be planned Tentatively by the 1st week of June

2023-05-23 17:23:48

Inayath BMT would be planned Tentatively by the 1st week of June

2023-04-06 17:30:30

Inayath would be visiting the Hospital on the 7th April for her Blood transfusion

2023-04-04 16:41:38

Inayath would be visiting the Hospital on the 7th April for her Blood transfusion

2023-03-30 10:37:04

Inayath is currently admitted in the Hospital for his Blood Transfusion for 15 days

2023-03-28 16:54:38

Inayath is currently admitted in the Hospital for his Blood Transfusion for 15 days

2023-03-23 16:47:05

Inayath is currently admitted in the Hospital due to fever ,surgery would be dated next week

2023-03-16 10:14:02

Inayath has his Blood Transfusion every Alternate weeks,Would be getting admitted on the 15th March and surgery has been planned on the 18th March

2023-03-14 17:27:10

Inayath has his Blood Transfusion every Alternate weeks,Would be getting admitted on the 15th March and surgery has been planned on the 18th March

2023-03-09 10:35:39

Inayath has his Blood Transfusion every Alternate weeks,Would be getting admitted on the 15th March and surgery has been planned on the 18th March

2023-03-08 10:35:10

Inayath has his Blood Transfusion every Alternate weeks,Would be getting admitted on the 15th March and surgery has been planned on the 18th March