3-year old Vihan needs your help for an urgent stem cell transplant
3-year old Vihan needs your help for an urgent stem cell transplant
"Amidst all our struggles, our son was born as a sign of happiness and joy in our household. But just a few days after we brought Vihan home, we noticed he could not move his right hand. Worried, we took him to a local hospital where he went through many medical tests with no correct diagnosis. It was very hard on us to see our child suffer. As his limbs and joints became stiff, he would go through pain even to move his body. In 2022, we took him to Rainbow Children Hospital where we came to know about his illness. It has been three years that I have seen my child suffer and now it has become worse where it has come upon his survival."-
Godishela Manasa, ; (Mother)
Vihan is a 3 year old son of Mr. Thirupathi and Mrs. Manasa. They hail from Karim Nagar, Andhra Pradesh. Vihan is diagnosed with Hunter's Syndrome (MPS II). It is a rare genetic disorder caused by a missing malfunctioning enzyme which causes swelling in his internal organs every 15-20 days. He finds it difficult to manage through daily activities like walking, eating and any other movements. Vihan has never been able to live a regular childhood as he has been suffering since he was born.
His condition has worsened now. The doctors at Rainbow Children Hospital, Hyderabad have advised an urgent hematopoietic stem cell transplant. The estimated cost is Rs. 14,00,000/- (rupees fourteen lakhs only.) His parents have spent all of their life earnings on the ongoing medical treatment. They are now in need of urgent help and support to save their child.
"My husband works as a daily wage labourer and manages to earn a minimal income. We make our ends meet with great difficulty. We have already spent all that we had for our only son. Now, it has become unbearable for us to live in such conditions and with the fear of losing our son. Our only hope left is the support that we can get from you all. Please help me save my child. " - Godishela Manasa (Mother)
How Can You Help?
-You can Donate to the Fundraiser
-You can share Vihan's story on Facebook and WhatsApp so that their story reaches to more people like you who will impact her life
-You can Volunteer to Raise Funds and save Vihan's life.
50% Tax Exemption under 80(G)
FUNDS DONATED WILL BE USED FOR Vihan's TREATMENT
Kindly also share the fundraiser with your family and friends and help them to reach the goal. We will be grateful for your help!
Supporting Documents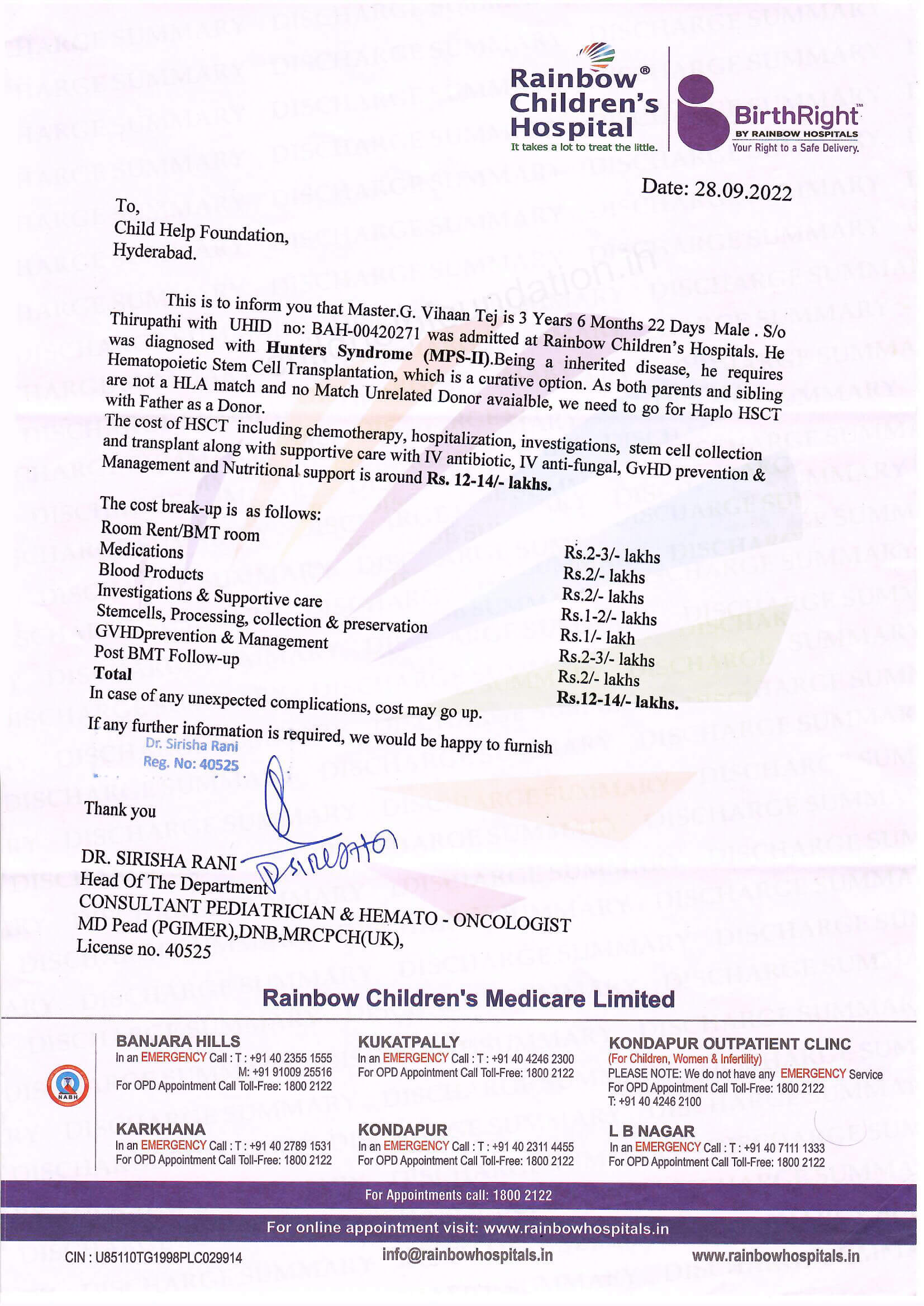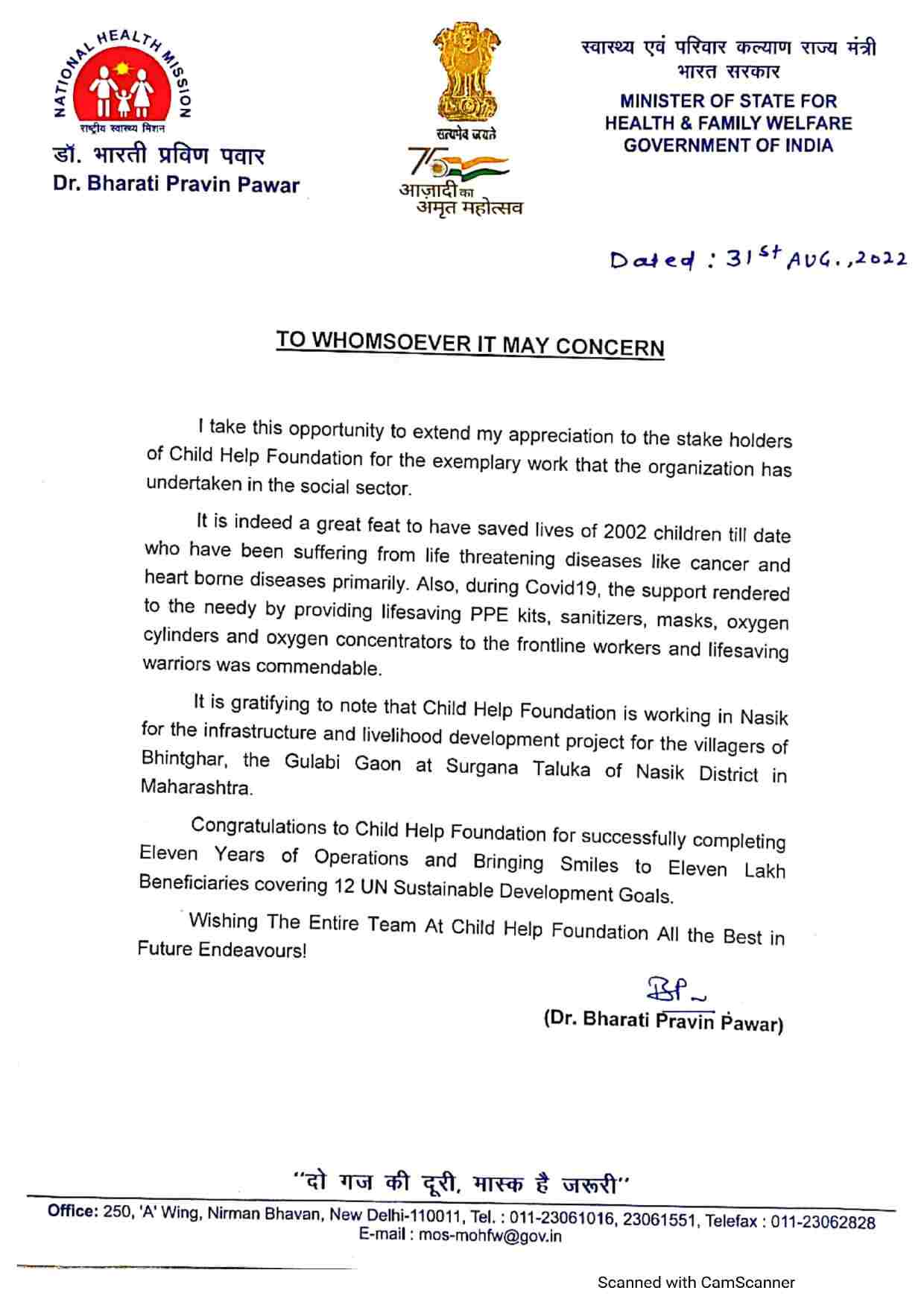 | Name | Donate Amount | Date |
| --- | --- | --- |
| Yogesh Lama | INR 100 | 2022-11-30 09:08:44 |
| Bharath | INR 2500 | 2022-11-26 10:05:29 |
| anonymous | INR 8 | 2022-11-25 12:17:13 |
| Col Mpskapil | INR 1000 | 2022-11-24 16:21:21 |
| Jayadev | INR 500 | 2022-11-24 01:02:42 |
| Sandeep Kumar | INR 200 | 2022-11-22 12:19:29 |
| AJEET KUMAR | INR 501 | 2022-11-22 10:32:33 |
| RAMESH B | INR 500 | 2022-11-09 11:56:57 |
| anonymous | INR 200 | 2022-11-08 18:21:02 |
| anonymous | INR 100 | 2022-11-08 11:38:09 |
| Sushant Patkar | INR 500 | 2022-11-05 15:27:45 |
| ADITYA SHRIVASTAVA | INR 151 | 2022-11-04 23:46:06 |
| anonymous | INR 200 | 2022-11-04 23:06:10 |
| Aviral Sinha | INR 1500 | 2022-11-04 17:02:59 |
| Priya Paul | INR 500 | 2022-11-04 15:27:01 |
| anonymous | INR 500 | 2022-11-02 19:38:00 |
| Shahanas Rafideen | INR 100 | 2022-11-01 17:14:37 |
| anonymous | INR 1000 | 2022-11-01 10:13:52 |
| anonymous | INR 300 | 2022-10-28 12:47:00 |
2022-11-08 10:42:57

Vihaan kept under obsevation, is recovering form infections.

2022-11-10 11:18:01

Vihaan is currently admitted -recovering from infections aftermath of BMT procedure and would be having prolong stay for tentatively 25days. He has some fungal infection.

2022-11-08 11:01:44

Vihaan is currently admitted -recovering from infections aftermath of BMT procedure and would be having prolong stay for tentatively 25days

2022-11-03 16:43:33

Vihaan is currently admitted in the Hospital for his BMT and would be having prolong stay for tentatively 25days

2022-11-01 12:23:20

Vihaan is currently admitted in the Hospital for his BMT and would be having prolong stay for tentatively 25days

2022-10-27 12:46:38

Vihaan is currently admitted in the Hospital for his BMT and would be having prolong stay for tentatively 25days

2022-10-20 15:12:46

Vihaan is currently admitted in the Hospital for his BMT and would be having prolong stay for tentatively 25days

2022-10-18 11:01:15

Vihaan is currently admitted in the Hospital for his BMT and would be having prolong stay for tentatively 25days

2022-10-11 11:11:32

Vihan would be getting admitted on the 13th for his medical Follow ups and Chemo therapy