12-days-old triplets of Mrs. Lijy are struggling for every breath! Save them
12-days-old triplets of Mrs. Lijy are struggling for every breath! Save them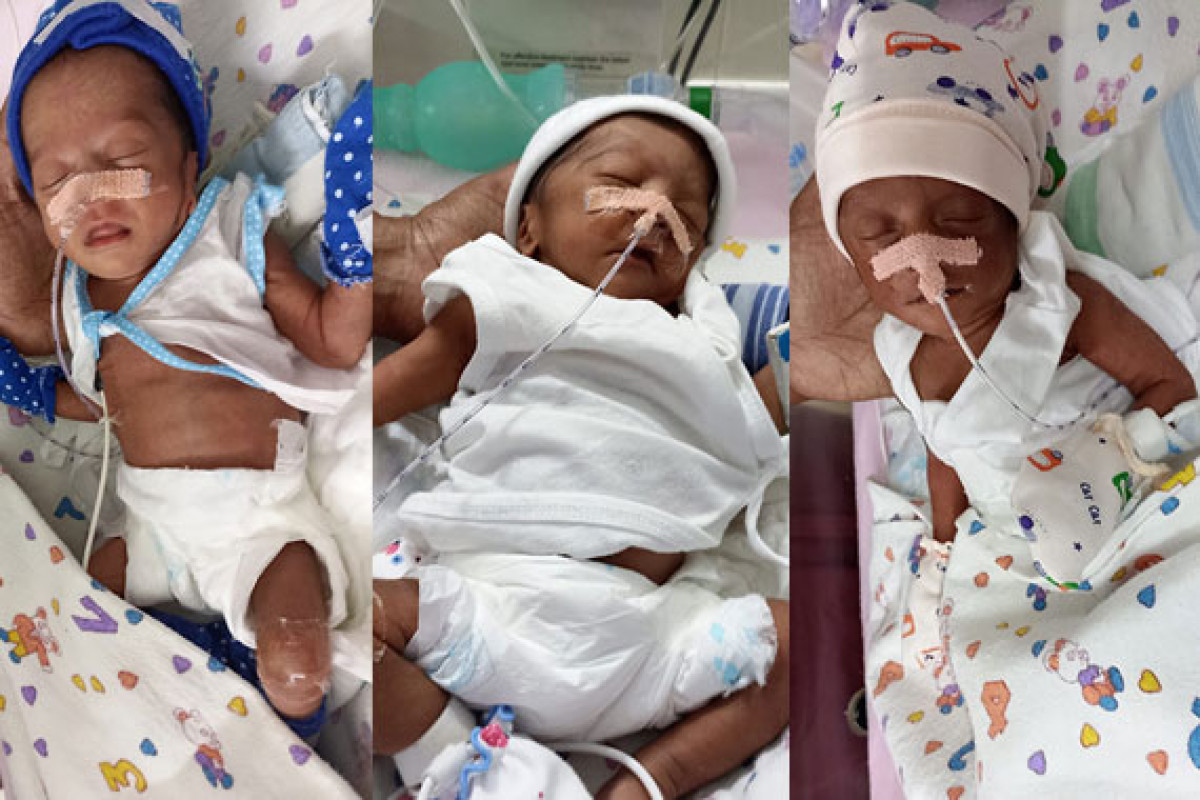 "My children have not even entered our home and it breaks my heart to see them hooked to needles and tubes. No parent should ever experience this, and no child should suffer like this. I feel helpless because I don't have the money for their treatment. Please help me save my three babies' lives."
- Mr. Chacko Mathew ; (Father)
Mr. Chacko Mathew and Mrs. Lijy Raju who hail from Thiruvalla, Kerala were excited to become new parents and were living in a very blissful state. After a sonography test, Mrs. Lijy found out that they were expecting triplets and they couldn't be happier. The doctor told them that the pregnancy had no complications, but she should take utmost care of herself. But things completely turned upside down for the couple when they went for a regular doctor's visit. The doctor told them that they needed to urgently deliver the babies and that they would be premature
The couple became parents to triplets, 2 baby boys and 1 little girl, who at 12 days old have been kept in NICU. The babies were born 31 weeks into the pregnancy through C-section surgery. The babies weigh 1.74 kgs, 1.36 kgs, and 1.55 kgs respectively. The triplets are currently admitted to Tiruvalla Medical Mission, Thiruvalla, Kerala. The triplets suffer from RDS, Culture Positive Neonatal Sepsis, and are currently on B CPAP support and IV drips.
The estimated cost of their treatment is Rs.4,00,000/- (Rupees Four Lakhs Only) Mr. Mathew has already spent all the savings on the delivery and the medicine cost for the children's treatment.
Mr. Chacko Mathew works in an aluminium fabrication factory as a daily wage worker and earns up to Rs.8,000/- per month. He has to support a family of 6 including his babies and his parents. He was not the sole income provider of the family because Mrs. Lijy worked as a nurse before, but she has been a homemaker for the past two years. The responsibility to support the family is now entirely on him. The family is very stressed because they are financially incapable of covering the cost of the treatment. The family has already borrowed money from their friends and are left with nobody to rely on. They have also sold their gold to gather the required amount.
Seeing their children struggling to survive is heartbreaking for the parents and they are now reaching out to you for support. Please support the couple bringing their little bundles of joy home.
How Can You Help?
-You can Donate to the Fundraiser
-You can share Triplets of Lijy's story on Facebook and WhatsApp so that their story reaches to more people like you who will impact their life
-You can Volunteer to Raise Funds and save Triplets of Lijy's life.
50% Tax Exemption under 80(G)
FUNDS DONATED WILL BE USED FOR Triplets of Lijy's TREATMENT
Kindly also share the fundraiser with your family and friends and help them to reach the goal. We will be grateful for your help!
Supporting Documents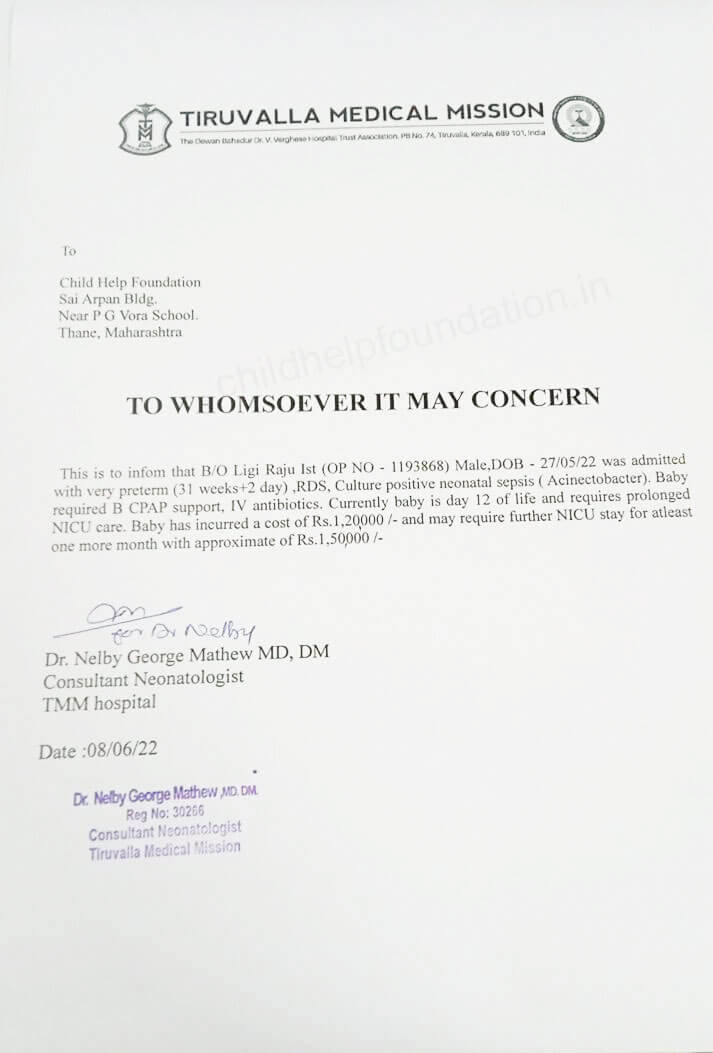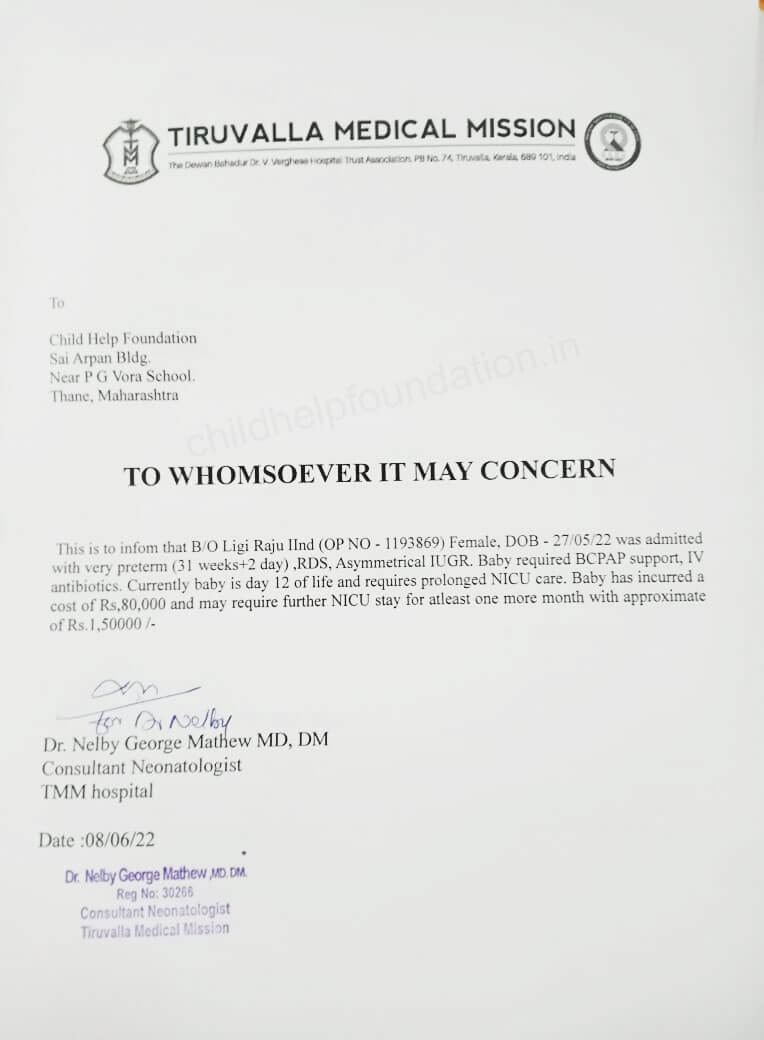 2022-06-29 12:27:32

Two babies of Lijy have Discharged. One needs to undergo Antigen Test