Support Titli, a 7-year-old to heal her wings and fly again!
Support Titli, a 7-year-old to heal her wings and fly again!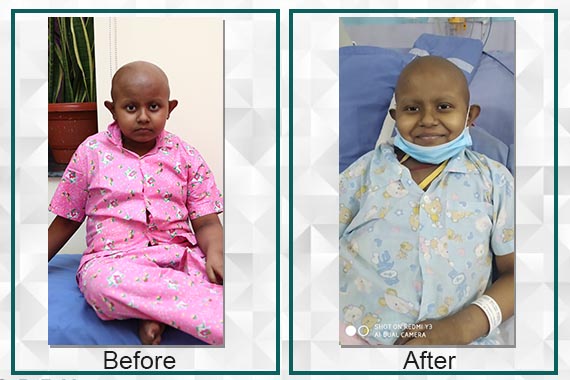 "We do not have any money left to treat our precious daughter. All our savings are exhausted, and whatever little I earn, is spent to sustain my family. I also have the responsibility to educate my girls. We need your help to continue Titli's treatment successfully. Kindly help us!"
- Mr. Prasunath Mondal (Step-father)
Titli Mondal, a 7-years- 11- months-old girl from Kolkata, West Bengal, was diagnosed with Cancer about six months ago. She is the birth daughter of Late Mr. Sufal Mondal and Mrs. Bulti Mondal. Mr. Prasunath, her stepfather has been looking after Titli and her sister, Soumili, who is 14, since their father's death. Mr. Prasunath works in a glass shop with a minimum salary of Rs. 7,000/- per month, and Mrs. Bulti is a homemaker. Out of Rs. 7,000 earned, Rs. 3,000 goes towards their house rent.
About six months ago, Titli started feeling a sharp pain in her right leg, which led to swelling and caused her massive discomfort. After being taken to the hospital, she was diagnosed with Cancer. Titli has been undergoing regular chemotherapy sessions at Tata Memorial Hospital, Kolkata. For the past six months, she has gone through chemotherapy every 14-15 days, the cost for which is around Rs. 10,00,000/-.
The family had to borrow from several friends and relatives to meet this high treatment expense. They were forced to sell their gold and other belongings for their daughter's treatment.
Recently, Titli's family took her to Medica Superspecialty Hospital, Kolkata, for her further treatment. After test results, the doctors found a tumour in the bone on her right knee. To get better, she needs to undergo surgery to extract the tumour. The estimated cost of the surgery is Rs. 5,75,000/-.