Six-year-old Saisha needs your help to undergo heart surgery
Six-year-old Saisha needs your help to undergo heart surgery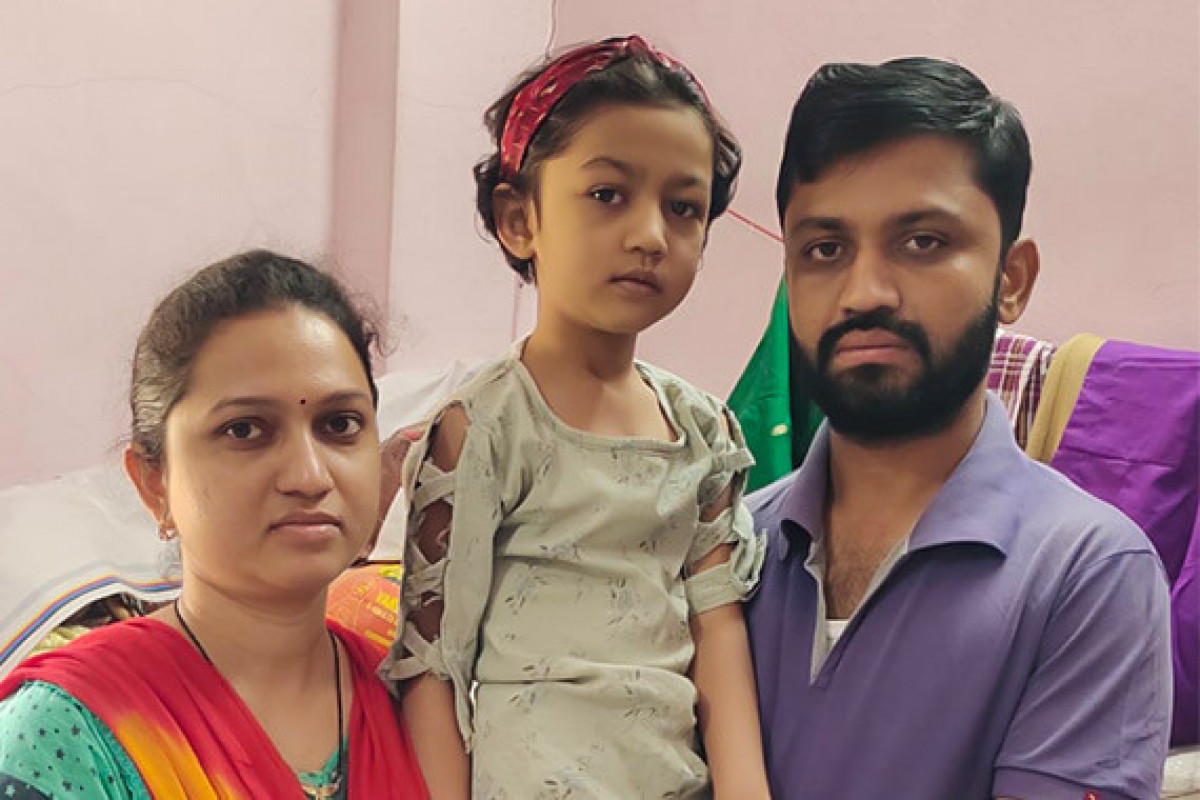 "My daughter means the whole world to me. My heart breaks every time I see her struggling to breathe. We have borrowed money for her previous surgery and have used all our savings. We long for the day when our daughter will be completely recovered from her heart complications. Please help us in these miserable times."
- Mr. Ankush Shinde ; (Father)
Saisha Shinde is the six-year-old daughter of Mr. Ankush Shinde and Mrs. Kirti Shinde from Pune, Maharashtra. The feeling of parenthood gave them extreme excitement when Kirti conceived their baby. It was until the last sonography that they were in utmost happiness. The final sonography report discovered that the baby is suffering from Tricuspid Atresia, a heart defect. The couple decided to provide their unborn child with everything needed and face their fate bravely.
A month later, on 14th August 2015, Kirti gave birth to a sweet baby girl, Saisha. Because of her heart defect, she was kept under observation and was discharged when it was safe for her to be without any medical support for the time being. Ankush and Kirti were scared yet looked after her with utmost care. When she turned four, her parents noticed that Saisha's skin turned blue, and she struggled to breathe often.
Her parents took her to Fabiani and Budhrani Heart Institute in Pune, Maharashtra. Where doctors performed heart surgery on Saisha. Because her body was too weak to handle a major surgery all at once, this surgery only fixed half of her heart defect.
Saisha continued to have breathing problems after that and now her condition has worsened. She needs to undergo TCPC surgery (Total Cavopulmonary Connection) as a continuation of the previous treatment. The estimated cost of the treatment is ₹ 4,00,000/- (Rupees Four Lakhs Only). This amount is beyond Mr. and Mrs. Shinde's financial capabilities. Mr. Shinde works under a photographer and gets to work as and when the need arises. He is the only breadwinner of the family and earns up to ₹ 10,000/- per month. Please help the couple raise funds for their only daughter's heart surgery.
How Can You Help?
-You can Donate to the Fundraiser
-You can share Saisha's story on Facebook and WhatsApp so that their story reaches to more people like you who will impact her life
-You can Volunteer to Raise Funds and save Saisha's life.
50% Tax Exemption under 80(G)
FUNDS DONATED WILL BE USED FOR Saisha's TREATMENT
Kindly also share the fundraiser with your family and friends and help them to reach the goal. We will be grateful for your help!
Supporting Documents