Help 15-Year-Old Sangamesh Fight a Deadly Cancer!
Help 15-Year-Old Sangamesh Fight a Deadly Cancer!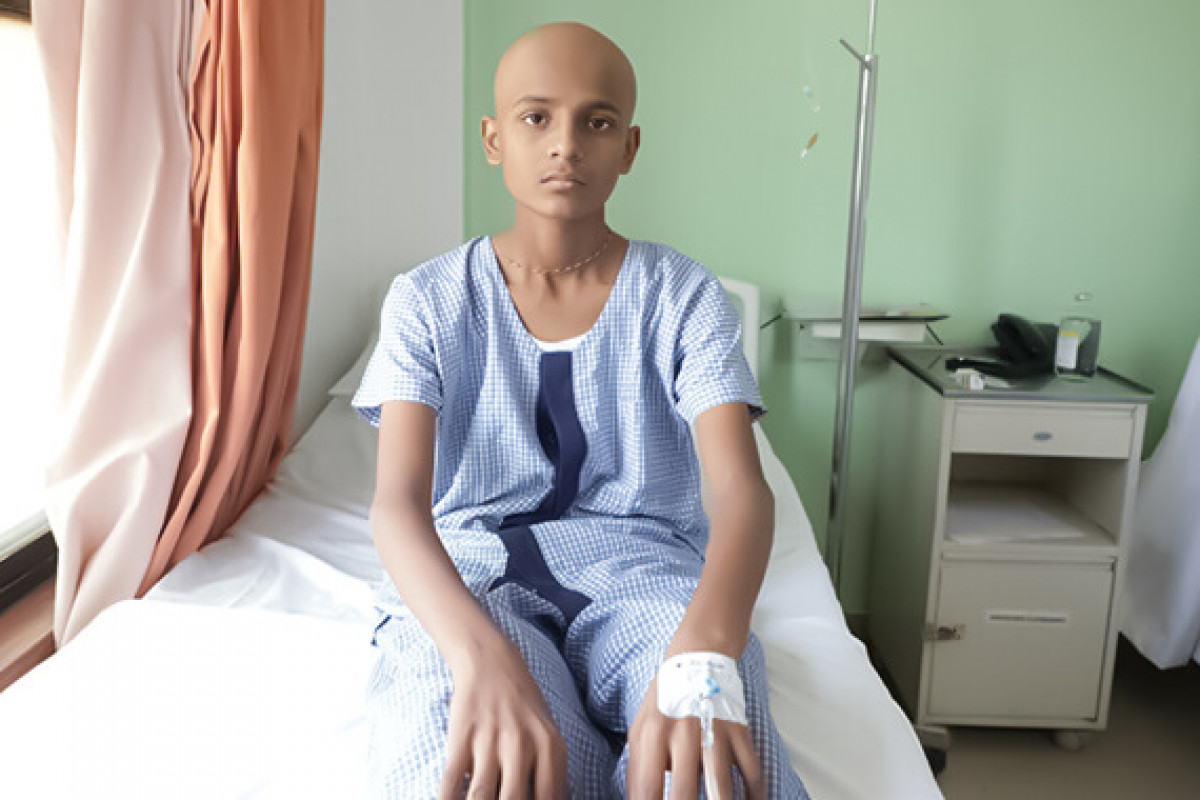 "We didn't have many expectations from life; we were living a decent life with whatever fewer facilities we had. Until the day we discovered that our elder son, Sangamesh, is suffering from bone cancer. It has been a few months since my child is hooked to a hospital bed. He needs to undergo a surgery and a long treatment. But we don't have the money to afford that."-
Mr. Basavaraj Simpi ; (Father)
Sangamesh is the 15-year-old son of Mr. Dasavaraj and Mrs. Danamma who hail from Bijapur, Karnataka. Sangamesh was diagnosed with Osteosarcoma of the left upper-end Tibia a few months ago. It is a bone cancer that weakens a person's bones and causes immense pain. Sangamesh has been through three chemotherapy cycles till now. He is supposed to undergo a Limb Salvage surgery and Neoadjuvant Chemotherapy session at HCG Hospital, Bengaluru, Karnataka. But his family cannot afford the cost of the treatment which is estimated at up to Rs. 9,50,000/- (Rupees Nine Lakhs Fifty Thousand only
"We have spent all our life earnings on Sangamesh's treatment so far, and now are left with not a single penny. My husband is an electrician and I am a labourer, we both don't have a fixed income. Our monthly expenses are barely sufficed by the scanty income we earn. How are we going to pay for my son's further treatment? I cannot see him in this state anymore, please, please help us save our son." -Mrs. Danamma (Sangamesh's mother)
How Can You Help?
-You can Donate to the Fundraiser
-You can share Sangamesh's story on Facebook and WhatsApp so that their story reaches to more people like you who will impact his life
-You can Volunteer to Raise Funds and save Sangamesh's life.
50% Tax Exemption under 80(G)
FUNDS DONATED WILL BE USED FOR Sangamesh's TREATMENT
Kindly also share the fundraiser with your family and friends and help them to reach the goal. We will be grateful for your help!
Supporting Documents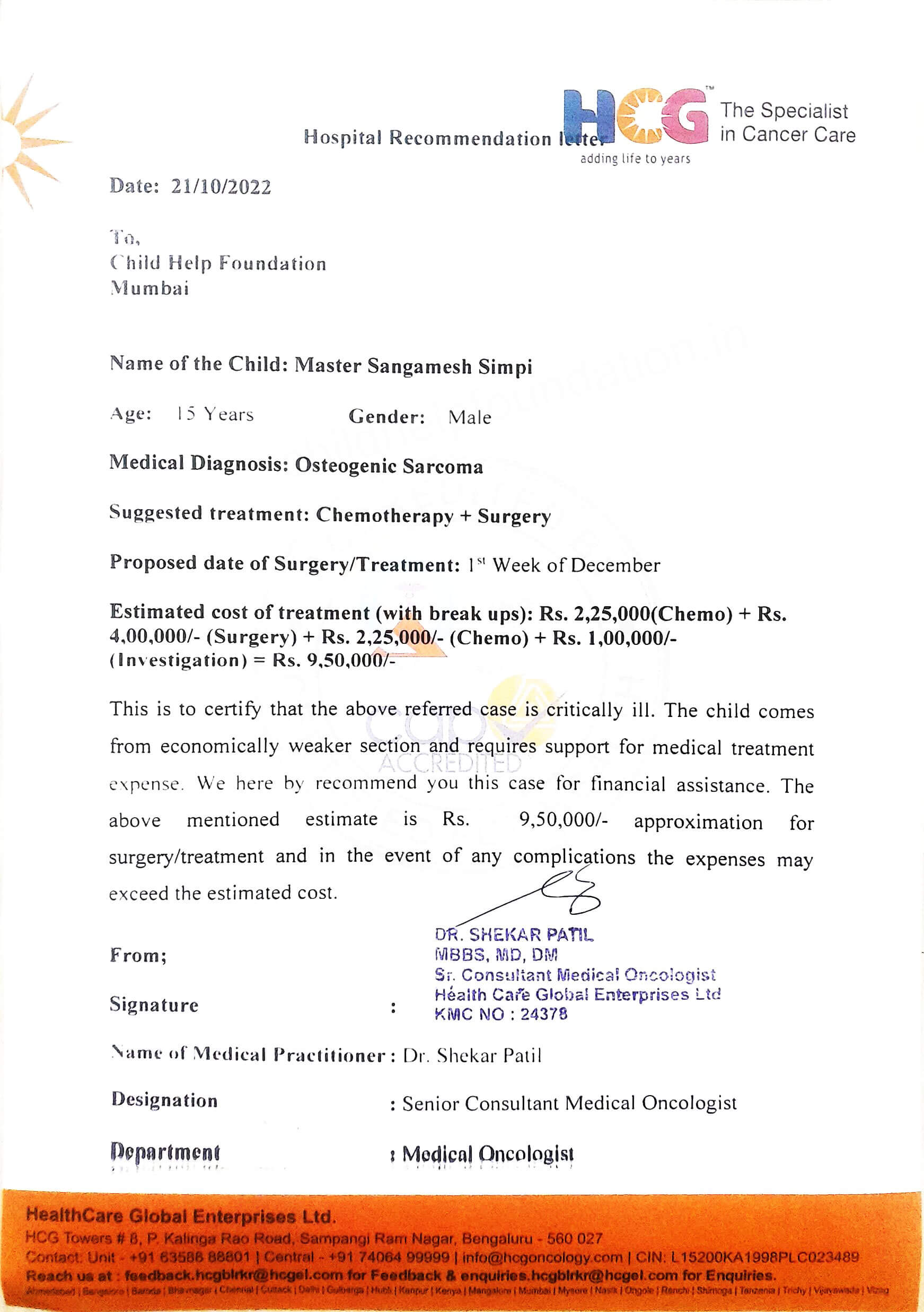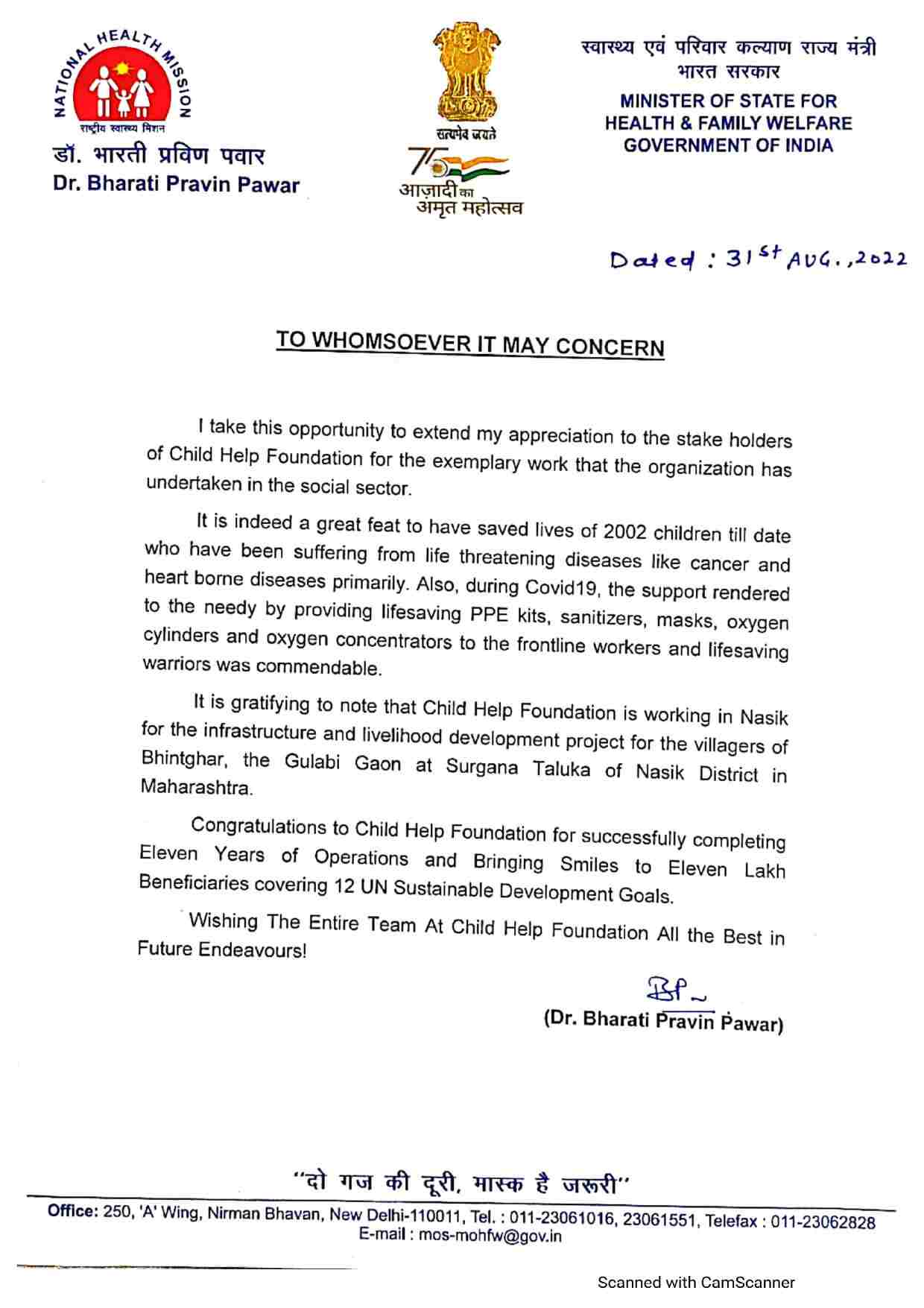 2022-12-29 10:51:09

Sangamesh has got admitted today -26th Dec and his surgery has been confirmed on the 30th Dec 2022

2022-12-26 11:32:56

Sangamesh has got admitted today -26th Dec and his surgery has been confirmed on the 29th Dec 2022

2022-12-15 14:41:57

Sangamesh is currently admitted in the Hospital and is undergoing 10days Chemotherapy and would be getting Discharged on the 16th Dec 2022

2022-12-12 12:13:21

Sangamesh is currently admitted in the Hospital and is undergoing 10days Chemotherapy and later his date of surgery would be dated

2022-12-09 11:21:43

Sangamesh is currently admitted in the Hospital and is undergoing 10days Chemotherapy and later his date of surgery would be dated

2022-12-06 10:46:40

Sangamesh is currently admitted in the Hospital and is undergoing 10days Chemotherapy and later his date of surgery would be dated

2022-12-01 10:31:59

Sangamesh would be getting admitted tentatively on the 5th Dec and accordingly will get the Confirmation date of Surgery

2022-11-29 16:18:21

Sangamesh would be getting admitted on the 1st Dec and ,His surgery has been confirmed on the 2nd Dec

2022-11-25 10:23:03

Sangamesh is currently at home and has been provided with the needful Medications,His surgery has been confirmed on the 5th Dec