2 y/o Rayan needs your help with his urgent stem cell transplant
2 y/o Rayan needs your help with his urgent stem cell transplant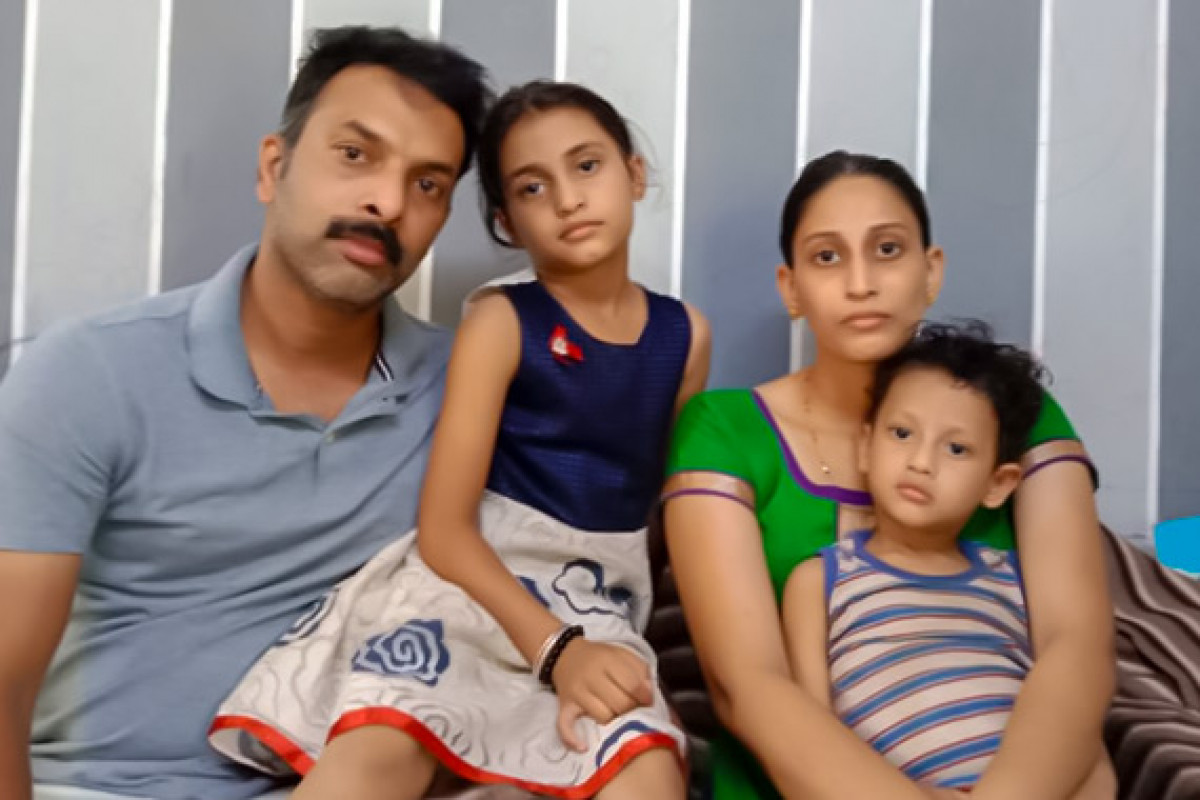 "I cannot see my child in pain. His condition is worsening and I feel helpless. I request you to help me. Please save my child."
- Mrs. Chinju A S ; (Mother)
Rayan Lijo, a two-year-old sweet boy from Kerala, is suffering from congenital neutropenia, a very rare condition marked by a shortage of neutrophils (a type of white blood cell that helps fight infections). At 18-months-old, he developed a severe skin infection and constant fevers, which made his parents Mr. Lijo M G and Mrs. Chinju A S rush him to the local hospital. As several days passed with no improvement, Rayan became weaker and weaker. When the family was told about the disease, and how it can turn an infection into a life-threatening situation, their world came crumbling down. Rayan could not fight infections, and he was very sick.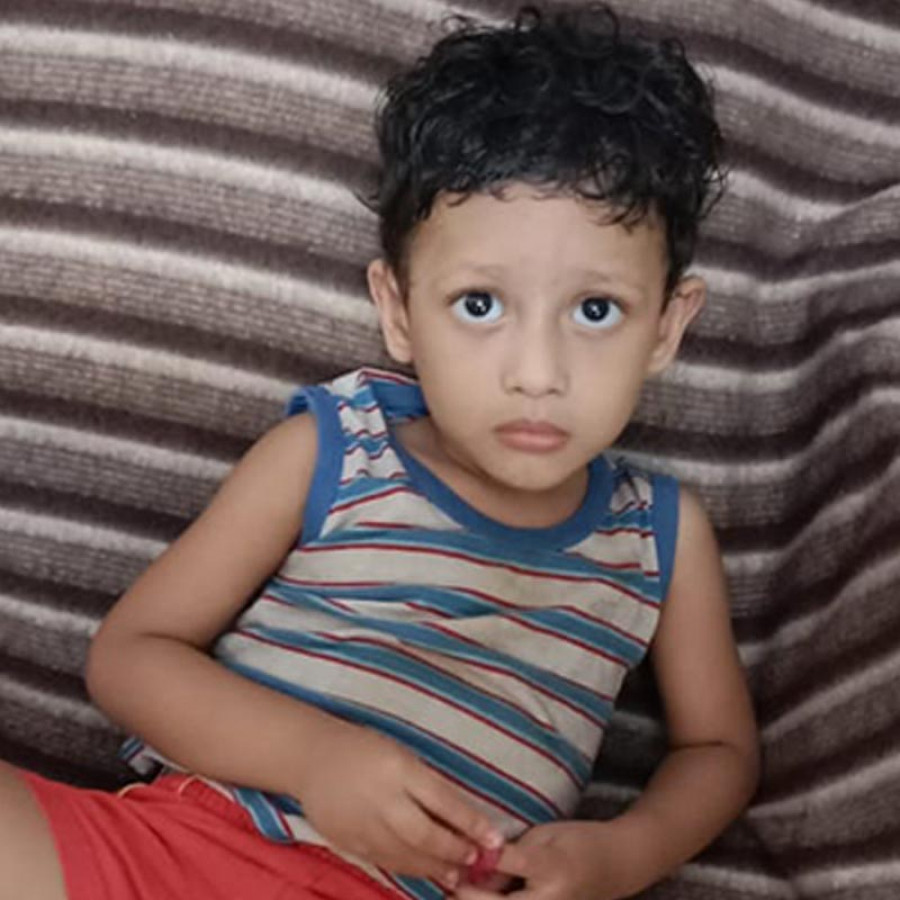 The two-year-old baby has been suffering for the last six months. His elder sister (six-years-old) is always by his side, singing to him to calm him down, and his nana (Chinju's mother) is constantly praying for her grandson's recovery. Rayan's parents did everything in their power to keep their son healthy. But his condition is worsening day by day. The doctors have suggested Rayan undergo an Allogeneic peripheral blood stem cell transplant. The estimated cost of the surgery is Rs. 35,00,000/- (Rupees Thirty-Five Lakhs Only).
Rayan's father, being the only breadwinner in the family of five, cannot afford such a huge amount for his surgery. His savings have been exhausted in Rayan's treatment and medication. Your donations are the only hope for Rayan.
How Can You Help?
-You can Donate to the Fundraiser
-You can share Rayan Lijo's story on Facebook and WhatsApp so that their story reaches to more people like you who will impact his life
-You can Volunteer to Raise Funds and save Rayan Lijo's life.
50% Tax Exemption under 80(G)
FUNDS DONATED WILL BE USED FOR Rayan Lijo's TREATMENT
Kindly also share the fundraiser with your family and friends and help them to reach the goal. We will be grateful for your help!
Supporting Documents
2023-01-17 10:21:09

Rayan Lijo will have to visit the Hospital every alternate days for his Medical follow ups for 5 months .

2023-01-17 09:55:29

Rayan Lijo will have to visit the Hospital every alternate days for his Medical follow ups for 5 months .

2023-01-10 16:33:12

Rayan Lijo will have to visit the Hospital every alternate days for his Medical follow ups for 5 months .

2023-01-05 16:42:38

Rayan Lij will have to visit the Hospital every alternate days for his Medical follow ups for 5 months .

2022-12-29 10:38:11

Rayan Lijo,has been Discharged ,but will have to visit the Hospital every alternate days for his Medical follow ups for 5 months .

2022-12-26 11:21:47

Rayan Lijo,has been Discharged ,but will have to visit the Hospital every alternate days for his Medical follow ups for 5 months .

2022-12-21 10:31:48

Rayan Lijo,has been Discharged ,but will have to visit the Hospital every alternate days for his Medical follow ups for 5 months .

2022-12-15 14:22:17

Rayan Lijo,has been Discharged ,but will have to visit the Hospital every alternate days for his Medical follow ups for 5 months .

2022-12-12 12:00:17

Rayan has been Discharged ,but will have to visit the Hospital every alternate days for 5 months .

2022-11-29 16:02:23

Rayan has been Discharged ,but will have to visit the Hospital every alternate days for 5 months .

2022-11-25 10:09:10

Rayan has been Discharged ,but will have to visit the Hospital every alternate days for 5 months .

2022-11-21 16:40:09

Rayan has been Discharged ,but will have to visit the Hospital every alternate days for 5 months .

2022-11-17 16:50:17

Rayan has been Discharged ,but will have to visit the Hospital every alternate days for 5 months .

2022-11-15 11:03:36

Rayan has been Discharged ,but will have to visit the Hospital every alternate days for 5 months .

2022-10-27 10:53:07

Rayan lijo would be having his BMT tomorrow

2022-10-21 12:32:35

Rayan is in the Hospital under observation.

2022-10-20 14:54:49

Rayan has been currently admitted , His Chemotherapy will soon start.

2022-10-06 10:00:45

Rayan is currently admitted in the Hospital and his Surgery has been Tentatively planned on the 2nd week of Oct

2022-10-03 15:34:06

Rayan is currently admitted in the Hospital and his Surgery has been Tentatively planned on the 2nd week of Oct

2022-09-29 14:41:41

Rayan has fever his treatment going on OPD

2022-09-29 10:01:02

Rayan is currently admitted in the Hospital and his Surgery has been Tentatively planned on the 2nd week of Oct

2022-09-26 14:27:46

Rayan is currently admitted in the Hospital and his Surgery has been Tentatively planned on the 2nd week of Oct

2022-09-22 17:30:09

Rayan is currently admitted in the Hospital and his Surgery has been Tentatively planned on the 2nd week of Oct

2022-09-20 16:59:44

Rayan is currently admitted in the Hospital and his Surgery has been Tentatively planned on the 2nd week of Oct

2022-09-15 15:12:06

Rayan has fever he has his regular tests for his transplant.

2022-09-13 14:23:22

Rayan has fever he has his regular tests for his transplant.

2022-09-09 10:59:07

Rayan has fever he has his regular tests for his transplant.

2022-08-27 12:53:21

Rayan admitted for his medical tests

2022-08-25 10:35:44

Rayaan lijo is at CMC Vellore, now as he is having fever for two days they have admitted him there

2022-08-23 12:26:42

Rayan will meet his doctor today at 2;30 pm

2022-08-09 10:00:43

Rayaan Lijo has to take his admission at CMC Vellore, on or after 18th of this month

2022-07-26 10:36:21

Rayan had fever due to which he couldn't go to see his Doctor, he will be visiting the Doctor on 4th August.

2022-06-21 15:22:50

Rayan has his hospital visit on 23rd June for his treatment