Child had undergone blood cancer. | Please save her life...
Child had undergone blood cancer. | Please save her life...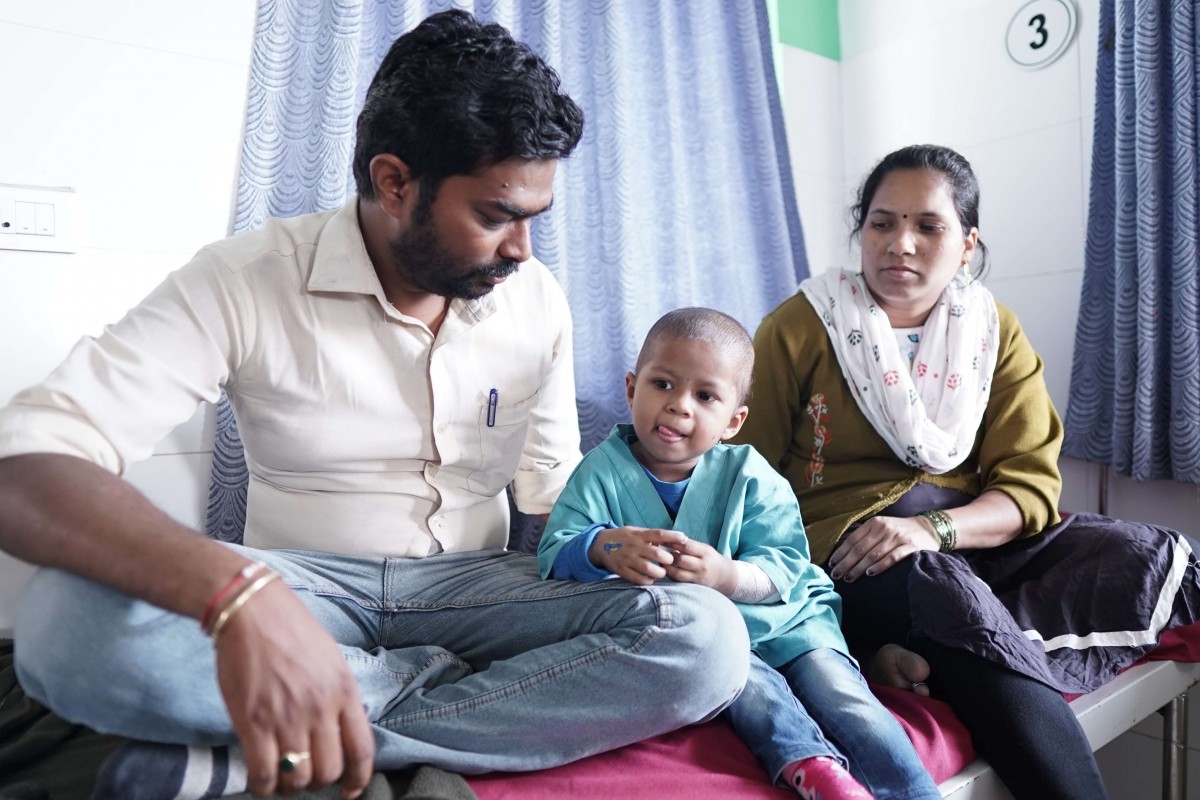 Parimita has been battling Acute Leukaemia since August last year. Little Parimita suffered from a terrible fever 6 months ago. But what worried Anand and Dipali was their daughter's swollen body. When they took her to the doctors, they started treating her for infections. But Parimita's pain got worse. After undergoing numerous tests in different hospitals, Anand and Dipali found that Parimita has blood cancer called Acute Leukaemia.
Anand is an electrician from Kolhapur, Maharashtra. He used to work with building contractors but due to the frequent hospital visits he is unable to continue working full time, his income is never fixed and he earns around 4000 to 5000 per month. But for the past 6 months, Anand has to stay near Parimita her cancer-ridden daughter and hasn't been able to work. The poor parents have already spent Rs 2 lakhs on Parimita's treatment. They desperately want to save their daughter from cancer. But after being jobless for 6 months, the father has no means to arrange 6 lakhs for his daughter's treatment. If little Parimita doesn't get the treatment soon, she will succumb to her cancer.
How Can You Help?
-You can Donate to the Fundraiser
-You can share Parimita's story on Facebook and WhatsApp so that her story reaches to more people like you who will impact her life
-You can Volunteer to Raise Funds and save Parimita life.
50% Tax Exemption under 80(G)
FUNDS DONATED WILL BE USED FOR THE PARIMITA'S TREATMENT
Kindly also share the fundraiser with your family and friends and help them to reach the goal. We will be grateful for your help!
2022-11-29 16:00:46

Parimita has been called on the 10th Dec for her CBC and Medical follow ups,she has been provided with the needful Medications.

2022-11-25 10:06:34

Parimita has been called on the 10th Dec for her CBC and Medical follow ups,she has been provided with the needful Medications.

2022-11-21 16:24:13

Parimita has been called on the 10th Dec for her CBC and Medical follow ups,she has been provided with the needful Medications.

2022-11-17 16:46:53

Parimita has been called on the 10th Dec for her CBC and Medical follow ups,she has been provided with the needfull Medications.

2022-11-15 11:00:21

Parimita has been called on the 10th Dec for her CBC and Medical follow ups,she has been provided with the needfull Medications.

2022-11-08 10:44:04

Parimita has been called on the 9th Nov for her CBC and Medical follow ups,she has been provided with the needfull Medications.

2022-11-03 16:13:29

Parimita has been called on the 6th Nov for her CBC and Medical follow ups,she has been provided with the needfull Medications.

2022-11-01 12:14:51

Parimita has been called on the 6th Nov for her CBC and Medical follow ups,she has been provided with the needfull Medications.

2022-10-27 12:27:37

Parimita has been called on the 6th Nov for her CBC and Medical follow ups,she has been provided with the needfull Medications.

2022-10-20 14:49:10

Parimita has been called on the 6th Nov for her CBC and Medical follow ups,she has been provided with the needfull Medications.

2022-10-18 16:13:13

Parimita has been called on the 6th Nov for her CBC and Medical follow ups,she has been provided with the needfull Medications.

2022-10-11 10:40:32

Parimita has been called on the 6th Nov for her CBC and Medical follow ups,she has been provided with the needfull Medications.

2022-10-06 09:57:01

Parimita has been called on the 10th Oct for her CBC and Medical follow ups

2022-07-21 17:31:26

Parimita will be in the Hospital after 8 days for her followup.

2022-07-19 10:36:14

Parimita will be in the Hospital after 8 days for her followup.

2022-07-12 11:21:15

Parimita is visiting the hospital on 26th July

2022-06-29 12:12:36

Parimita is in the Hsopital for her review