Juveria Shaikh suffering from High-Risk Neuroblastoma needs your help
Juveria Shaikh suffering from High-Risk Neuroblastoma needs your help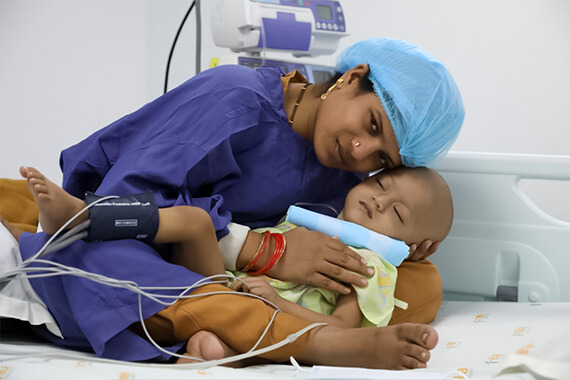 "My child is only 2 years old and the past 5 months have only been about her suffering. At first, she couldn't breathe and her stomach had swollen. We thought it was the usual stomach issues but it turned out to be a deadly illness. At Rela Hospital, we came to know about her diagnosis and that she required 8 levels of chemotherapy. The doctors asked us to immediately admit her because more delay would mean lesser chances of her survival. But we cannot find any way to arrange Rs. 12,00,000 for her treatment. We are very helpless."-
Mrs. Nasrin Shaikh, ; (Mother)
Juveria Shaikh is a 2-year-old girl from Nellore, Andhra Pradesh. She is suffering from High-Risk Neuroblastoma. Her father Banu Jilani Shaikh is an electrician and her mother Nasrin Shaikh is a homemaker. High-Risk Neuroblastoma is the most common extracranial solid tumor found in children which is cancerous and requires immediate treatment. In addition to this, the patient also has to undergo radiation therapy and an autologous stem-cell transplant. The chances of survival in such a case reduces to 50% and can even deteriorate in case of delay.
When Juveria could not get any relief from 5 months of treatment at Nellore, her parents took her to Rela Hospital in Chennai where she was diagnosed with High-Risk Neuroblastoma and the doctors proposed High dose chemotherapy followed by Stem Cell Rescue (Autologous BMT). The estimated cost is Rs. 12,00,000 (Rupees Twelve Lakhs only.) They have no savings as they earned enough only to feed themselves two square meals. In such scenarios, they have no resources to finance the treatment of their two-year-old Juveria.
"My husband is the sole bread-earner of our family of four. He hasn't gotten regular work for 3 months now. We struggle every day even to fulfill our basic needs. We find it very painful to see our little daughter in such conditions. Only your help can save her and bring her back home. Please help us!" - Mrs. Nasrin Shaikh (mother)
How Can You Help?
-You can Donate to the Fundraiser
-You can share Juveria's story on Facebook and WhatsApp so that their story reaches to more people like you who will impact his life
-You can Volunteer to Raise Funds and save Juveria's life.
50% Tax Exemption under 80(G)
FUNDS DONATED WILL BE USED FOR Juveria's TREATMENT
Kindly also share the fundraiser with your family and friends and help them to reach the goal. We will be grateful for your help!
Supporting Documents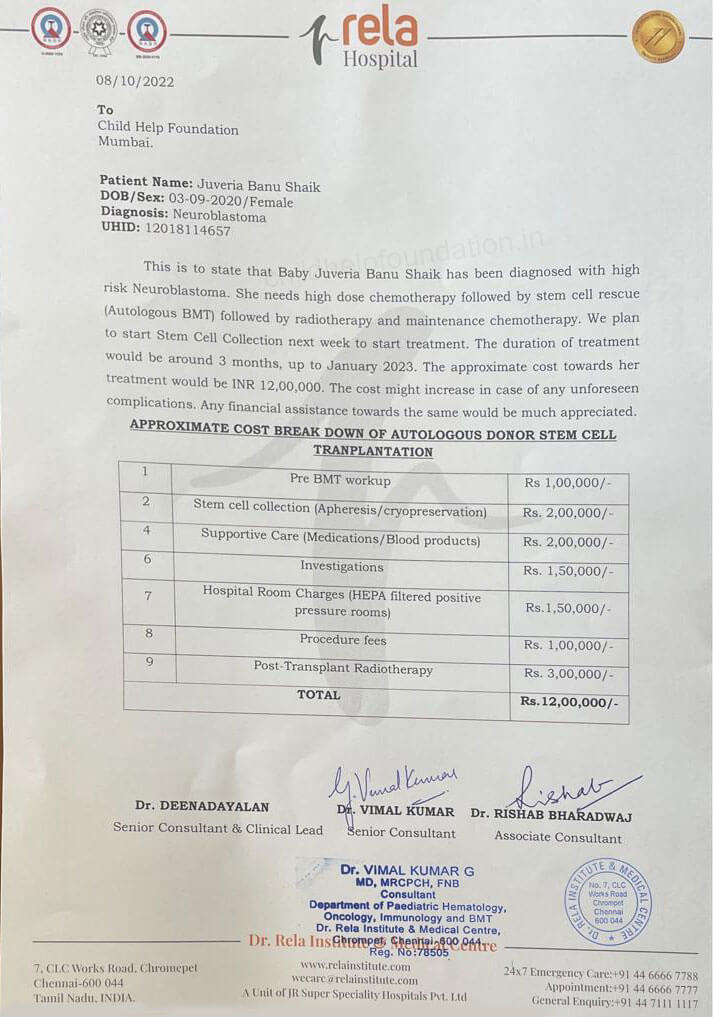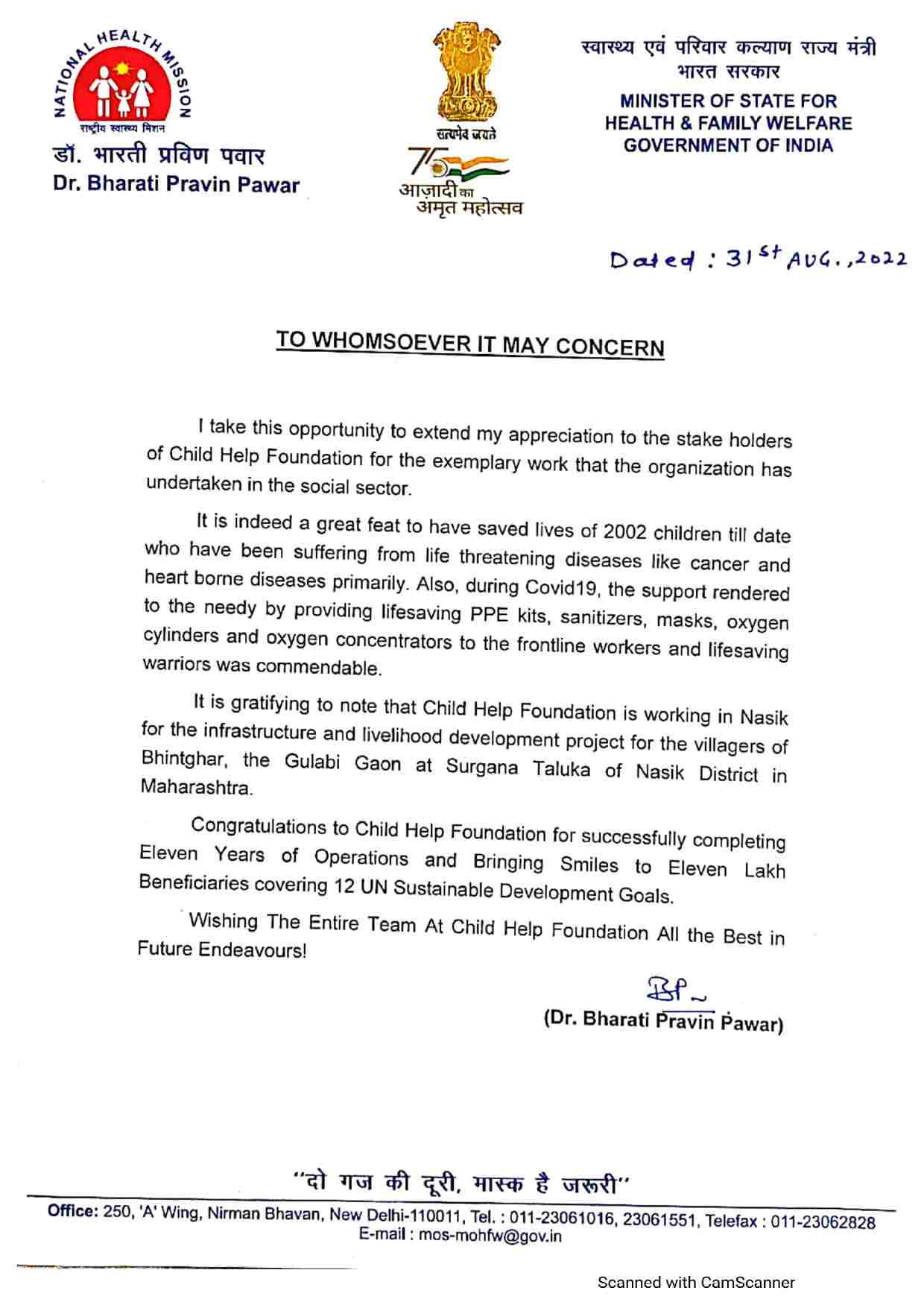 | Name | Donate Amount | Date |
| --- | --- | --- |
| Prakash Sahoo | INR 600 | 2022-12-28 15:06:42 |
| Sunil | INR 100 | 2022-12-28 14:30:33 |
| Akhil | INR 100 | 2022-12-27 11:30:06 |
| anonymous | INR 1000 | 2022-12-14 12:06:21 |
| Col Mpskapil | INR 600 | 2022-12-12 15:26:50 |
| anonymous | INR 1000 | 2022-12-09 11:29:08 |
| Gitanjali Kumari | INR 100 | 2022-12-08 15:10:41 |
| anonymous | INR 1000 | 2022-12-08 11:37:56 |
| anonymous | INR 500 | 2022-12-07 17:19:52 |
| anonymous | INR 250 | 2022-12-07 15:54:45 |
| anonymous | INR 350 | 2022-12-07 13:55:32 |
| Anjuna R | INR 500 | 2022-12-06 23:26:56 |
| Priya Paul | INR 250 | 2022-12-06 14:34:17 |
| anonymous | INR 500 | 2022-12-05 16:27:06 |
| Rah | INR 1000 | 2022-12-04 10:06:53 |
| anonymous | INR 1000 | 2022-12-03 15:49:09 |
| anonymous | INR 1001 | 2022-12-03 14:35:38 |
| FEBA ANN | INR 1000 | 2022-12-02 12:55:36 |
| anonymous | INR 1000 | 2022-12-02 11:05:35 |
| anonymous | INR 200 | 2022-12-01 11:32:07 |
2023-01-10 16:39:06

Juveria would be Visiting the Hospital on the 10th Jan 2023,for her Medical follow ups

2023-01-05 16:49:39

Juveria would be Visiting the Hospital on the 5th Jan 2023,for her Medical follow ups

2022-12-29 10:44:38

Juveria has been Currently admitted in the ICU due to heavy Cough ,cold and fever

2022-12-26 11:30:48

Juveria has been Currently admitted in the ICU due to heavy Cough ,cold and fever

2022-12-21 10:43:09

Juveria has been Currently admitted in the ICU due to heavy Cough ,cold and fever

2022-12-15 14:38:10

Juveria will be visiting the Hospital next week on her regular followups.

2022-12-12 12:09:05

Juveria will be visiting the Hospital on her regular followups.

2022-12-09 11:17:24

Juveria will be visiting the Hospital on her regular followups.

2022-12-06 10:42:27

Juveria will be visiting the Hospital on her regular followups.

2022-12-01 10:26:31

Juveria will be visiting the Hospital on her regular followups.

2022-11-29 16:14:17

Juveria will be visiting the Hospital on her regular followups.

2022-11-25 10:16:57

Juveria will be on her regular followups.

2022-11-21 16:33:06

Juveria will be on her regular followups.

2022-11-15 11:13:06

Juveria will be discharged today and will be on followups.

2022-11-10 11:19:15

Juveria will be discharged today and will be on followups.

2022-11-08 11:02:39

Juveria Stem cell extraction done and has been still kept under Observation

2022-11-03 16:48:52

Juveria Stem cell extraction done and has been still kept under Observation

2022-11-01 12:24:36

Juveria Stem cell extraction done and has been still kept under Observation

2022-10-27 12:47:51

Juveria Stem cell extraction done and has been still kept under Observation

2022-10-20 15:13:48

Juveria Stem cell extraction done and has been still kept under Observation

2022-10-18 17:02:35

Stem cell extraction done and has been still kept under Observation