Help a grieving father to save his only baby girl suffering to take her next breath!
Help a grieving father to save his only baby girl suffering to take her next breath!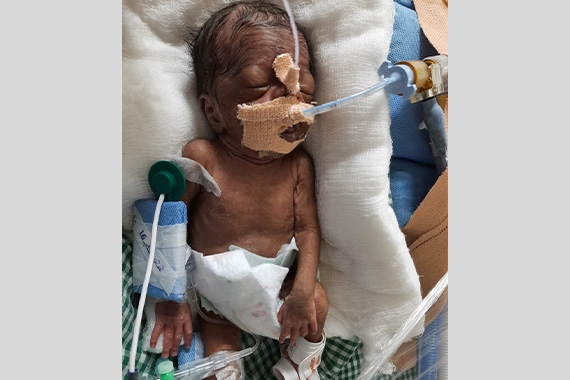 "I have not even processed the death of one of my babies. The poor financial condition is pushing me to forget my grief to save my other baby now. I am already in huge debt, and I cannot even take a loan from any financial institution. I just feel so helpless that I am unable to bring my child back to me. My wife and I request you to help us out in their distressing times!" - Mr. Sanjo Cherian (Father)
Mrs. Jency gave birth to two preterm baby girls - Catherine and Caroline. The twins were one-month-old when they were admitted to the hospital, as they suffered from extreme prematurity being born in the sixth month of pregnancy.
Baby Catherine has an abnormally large kidney, causing multiple health issues. She requires a NICU stay and is on ventilator support. She is currently being treated at Lisie Hospital, Kerala. The doctors have suggested HHFNC and IV antibiotics for onset sepsis along with continued NICU support for treating her prematurity and low birth weight. The estimated cost of this is Rs. 5,00,000/- (Rupees Five Lakhs Only).
Baby Caroline suffered from an intraventricular haemorrhage
with mild hydrocephalus, which means that there was a clot in her brain. Unfortunately, despite all the efforts by the doctors, baby Caroline passed away due to her blood infection.
The twins' father Mr. Sanjo is food-delivery personnel who earns a daily income of Rs. 350/- only. Their mother used to work as a nurse but left her job during her pregnancy. The couple is already in debt as they have borrowed a huge amount of money from their relatives and friends. The couple and there now only baby live in a rented house in Ernakulam and have to pay a monthly rent of Rs. 7,500/-.
Having already lost a child, the parents need your help and prayers to bring their baby Catherine back home. Donate now!
How Can You Help?
-You can Donate to the Fundraiser
-You can share Baby Caroline's story on Facebook and WhatsApp so that their story reaches to more people like you who will impact their life
-You can Volunteer to Raise Funds and save Baby Caroline's life.
50% Tax Exemption under 80(G)
FUNDS DONATED WILL BE USED FOR THE Baby Caroline TREATMENT
Kindly also share the fundraiser with your family and friends and help them to reach the goal. We will be grateful for your help!
Supporting Documents