Save 4-year-old Hitvika from Congenital Heart Defect
Save 4-year-old Hitvika from Congenital Heart Defect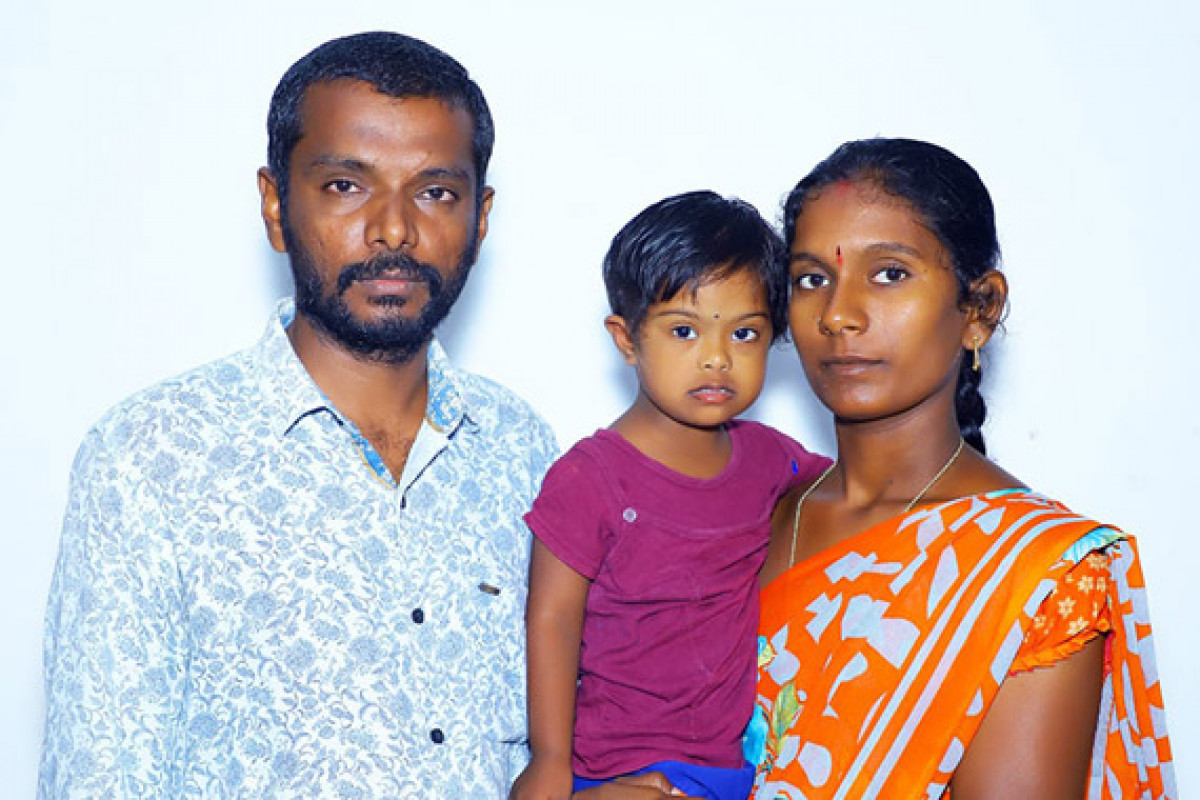 "There is something wrong with my daughter's heart, we don't even understand the illness. It started as a small fever last year, and now it can take my daughter's life away. She is just a 4 year old who is about to start her education.How could this happen? I cannot imagine the pain she might feel everyday in her heart, the fact that as her parents we don't have the power to save her might breaks our heart"-
Mr. Venkatesh Goud, ; (Father)
Hitvika is a 4-year-old daughter of Mr. Venkatesh and Mrs. Bolgam, who used to reside in Telangana. The family lived a happy and restful life till last year before Hitvika started complaining of severe chest aches and fever. The parents took her to a hospital, where they were asked to try medication for their daughter. But after a few months, when the medications failed to help, and Hitvika's fever continued to trouble her every day. The family took her to the hospital again and got the necessary tests done this time. When the test results came in, the family couldn't believe what they were told. Their little daughter was suffering from Large Primum ASD and Moderate Mitral Valve Regurgitation, a kind of Congenital Heart Disease with small holes in her heart's inferior and posterior positions.
The family was asked to go to Care Hospital in Hyderabad for further treatment. The doctors at Care Hospital posited a treatment of ASD closure and Mitral Valve Repair. Unable to understand the illness or the treatment, the family was shocked to know that it would cost them Rs. 3,00,000/- (Rupees Three Lakhs Only).
"It has been a year since the tests began and we came to Hyderabad, and we still cannot begin with the operation since it costs so much. The doctors say that the surgery needs to be completed in a month otherwise it would be fatal for my daughter. But how can I arrange an amount in a month which I couldn't arrange in more than a year? I work as a mill laborer, and our family of four has been trying to survive on very minimum income. With my son's education, my family's health, and now my daughter's treatment, it is impossible for me to afford it. Please Help me. Can you imagine a 4-year-old girl suffering from an illness like this? Please Help us save her." - Mr. Venkatesh Goud, (Father of Hitvika)
How Can You Help?
-You can Donate to the Fundraiser
-You can share Hitvika's story on Facebook and WhatsApp so that their story reaches to more people like you who will impact her life
-You can Volunteer to Raise Funds and save Hitvika's life.
50% Tax Exemption under 80(G)
FUNDS DONATED WILL BE USED FOR Hitvika's TREATMENT
Kindly also share the fundraiser with your family and friends and help them to reach the goal. We will be grateful for your help!
Supporting Documents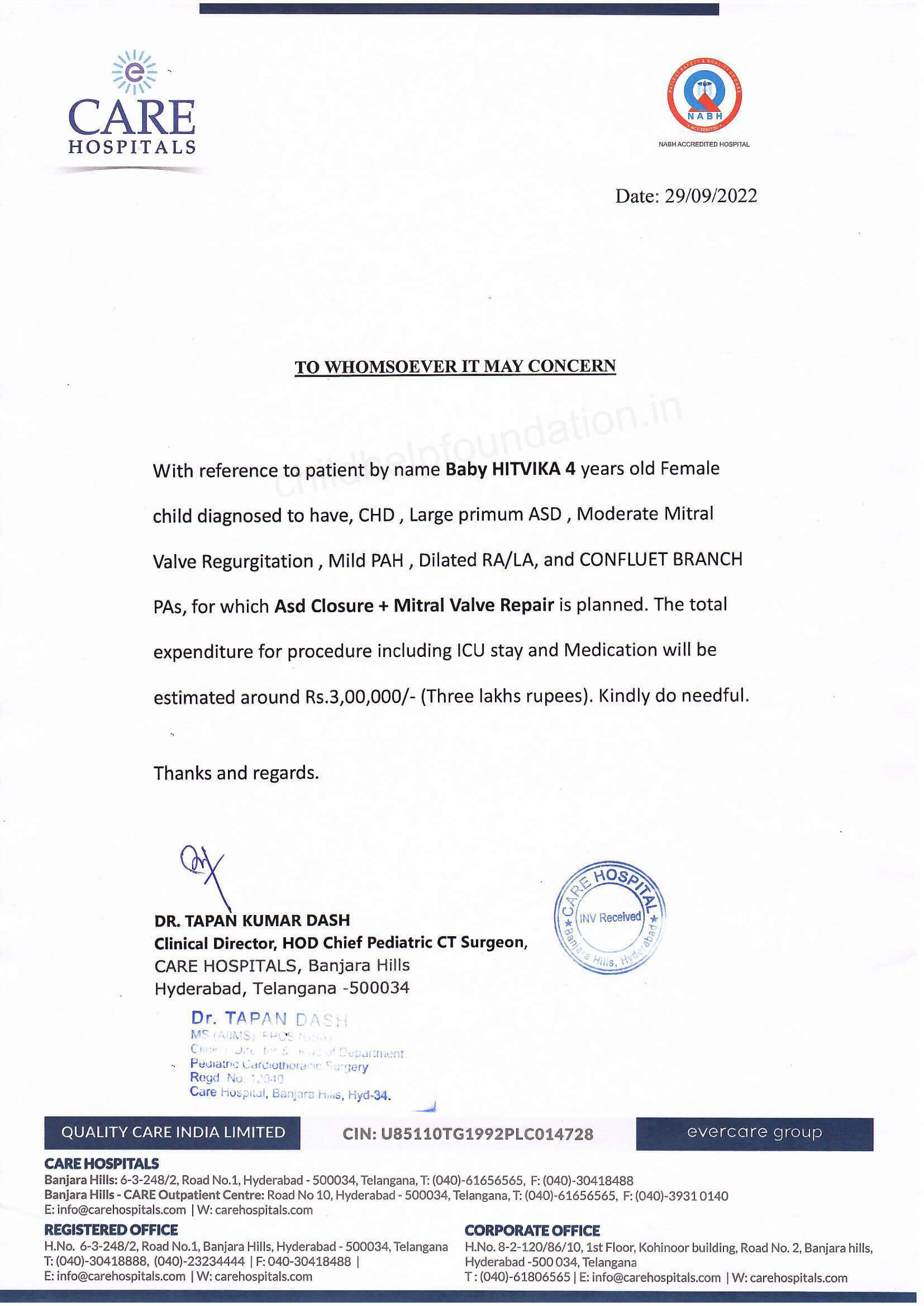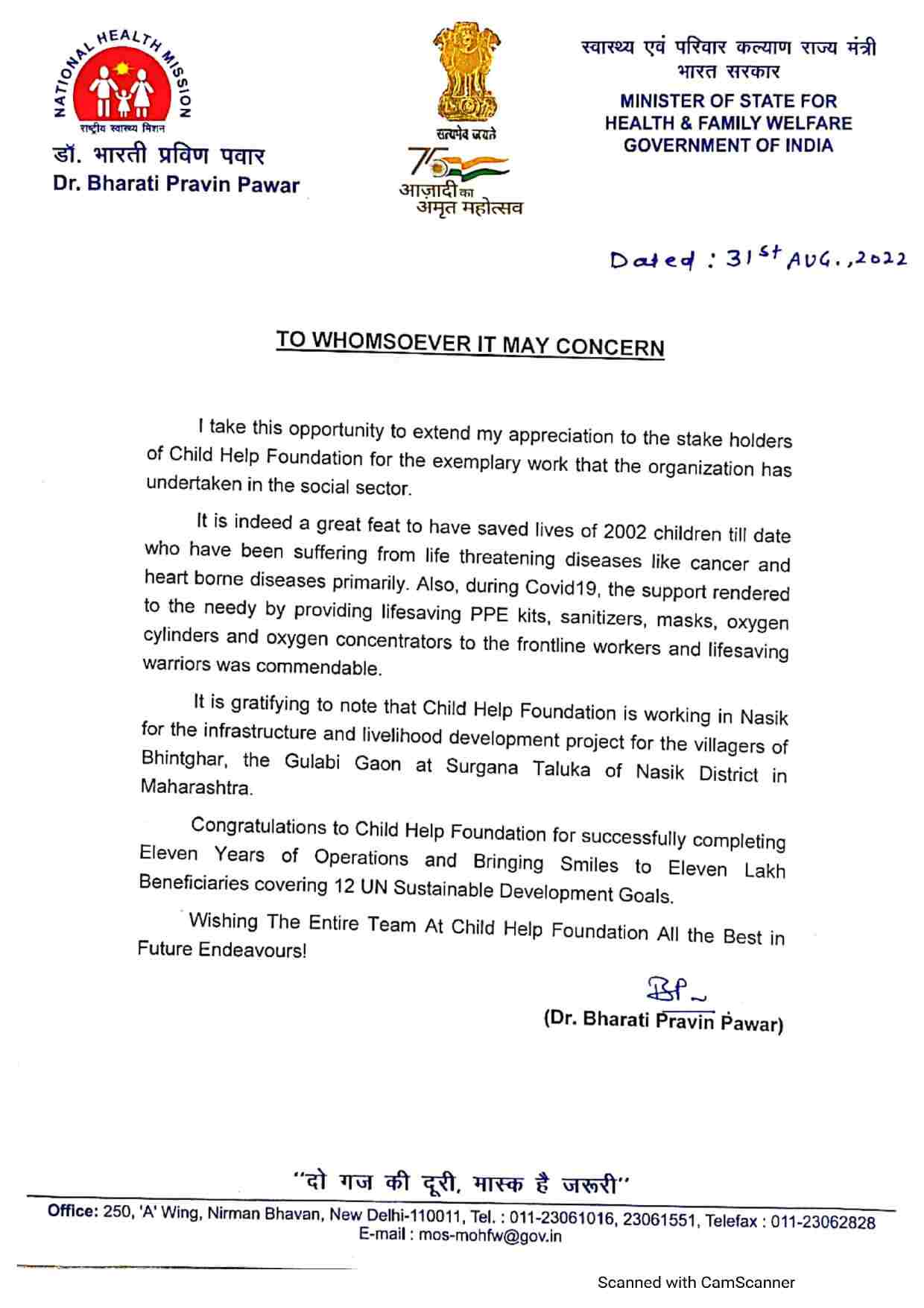 2022-11-03 16:44:46

Hitvika had her surgery done on the 31st Oct ,shes currently kept under Doctors Observation for a week

2022-11-01 12:22:22

Hitvika had her surgery done on the 31st Oct ,shes currently kept under Doctors Observation for a week

2022-10-27 12:45:48

Hitvika has been provided with the needful Medications ,the parents would be visiting on the 31st Oct to meet the treating Doctor.