Support 3- Year-Old Donica Who Is Battling Leukemia!
Support 3- Year-Old Donica Who Is Battling Leukemia!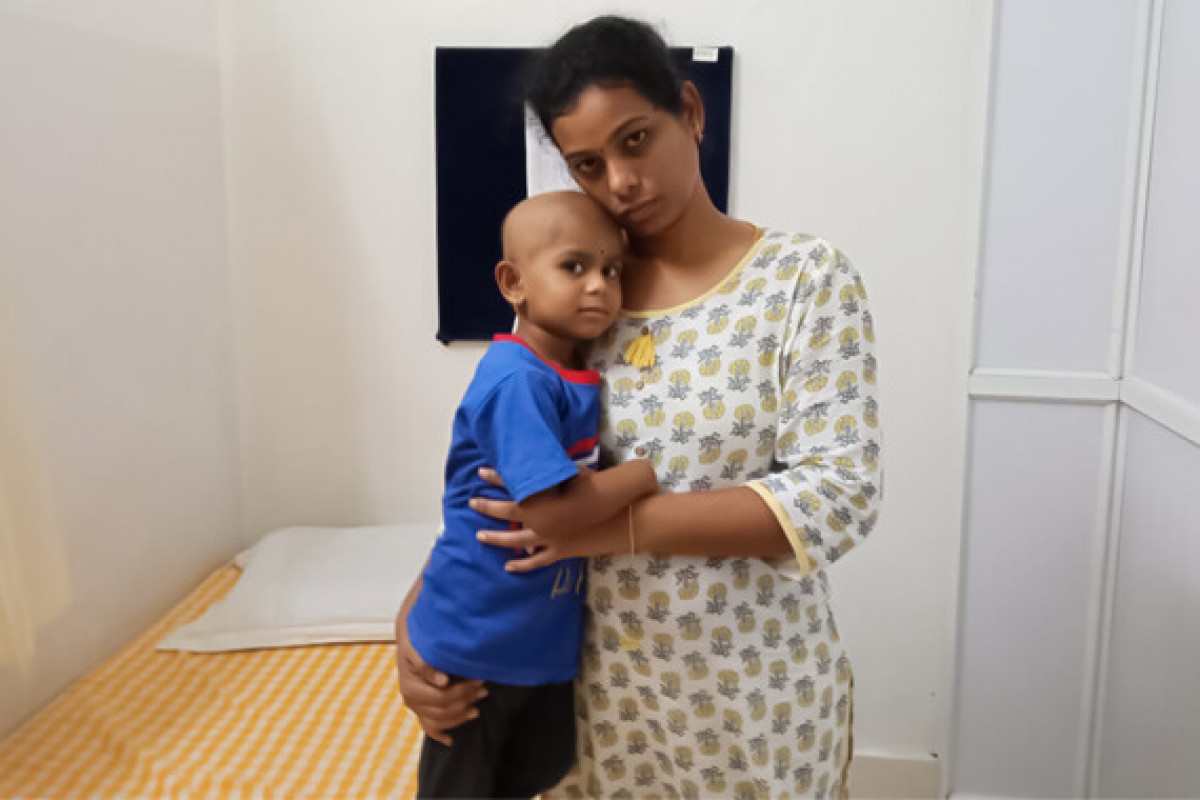 "It is heartbreaking to see our little angel in pain and struggling to get through a day. We have exhausted all of our money on her treatments till date and we have nowhere else to go. Donica is our only child, Please help us Save her!"
- Mrs. Theja Pethari ; (Mother)
The life of happy and healthy 3-year-old Donica Reddy changed forever when she started getting fever regularly. The only daughter of Mr. Sumanth and Mrs. Theja, Donica was an active little girl, who loved playing in her house in Griddalur, Andhra Pradesh. Donica started falling sick, she complained of pains and would get fever that would last a week, every month. Her parents started getting tense and worried. They would take her to the family doctors, but her pain and fevers were getting worse. It was after months of treatment that Mr. And Mrs. Reddy's little angel was diagnosed with Acute myeloid leukemia (AML) high-risk disease MLL gene rearrangement which is a type of Acute Leukemia.
Donica's long battle to survive started when her pain started getting worse and her parents took her to Swetha Hospital, Tirupati and she was admitted for a week. It was in Tirupati, that doctors advised the parents to get a Bone Marrow Test done on Donica. Since no facilities were available in Tirupati, they moved her to Rainbow Hospital in Hyderabad. She underwent chemotherapy for two months at Rainbow Hospital.
The doctors advised them that Donica would need a bone marrow transplant after conducting many tests. For specified treatment, Donica was taken to the Yashoda Hospital and her treatment started again. A Bone Marrow Transplant has been advised for little Donica. She has currently completed 5 days of chemotherapy and has been in a lot of pain as a result of the gaps in the treatment.
Her parents feel very helpless, her father works as a Staff Nurse and earns upto Rs. 15,000/- a month and her mother is a housewife. Donica and her parents live with her grandmother in a house that she owns. The cost of the surgery is too much for them to bear. The couple has already used their health insurance, and have also reached out to their relatives, who have helped them out. Donica's parents are also trying to get a loan, but they have not been successful yet.
The estimated cost of the treatment is Rs. 20, 00, 000/- (Rupees Twenty Lakh Only). They are trying their level best to give their daughter a fighting chance and they need your help to do so! Please Help Save Donica's Life.
How Can You Help?
-You can Donate to the Fundraiser
-You can share Donica's story on Facebook and WhatsApp so that their story reaches to more people like you who will impact her life
-You can Volunteer to Raise Funds and save Donica's life.
50% Tax Exemption under 80(G)
FUNDS DONATED WILL BE USED FOR Donica's TREATMENT
Kindly also share the fundraiser with your family and friends and help them to reach the goal. We will be grateful for your help!
Supporting Documents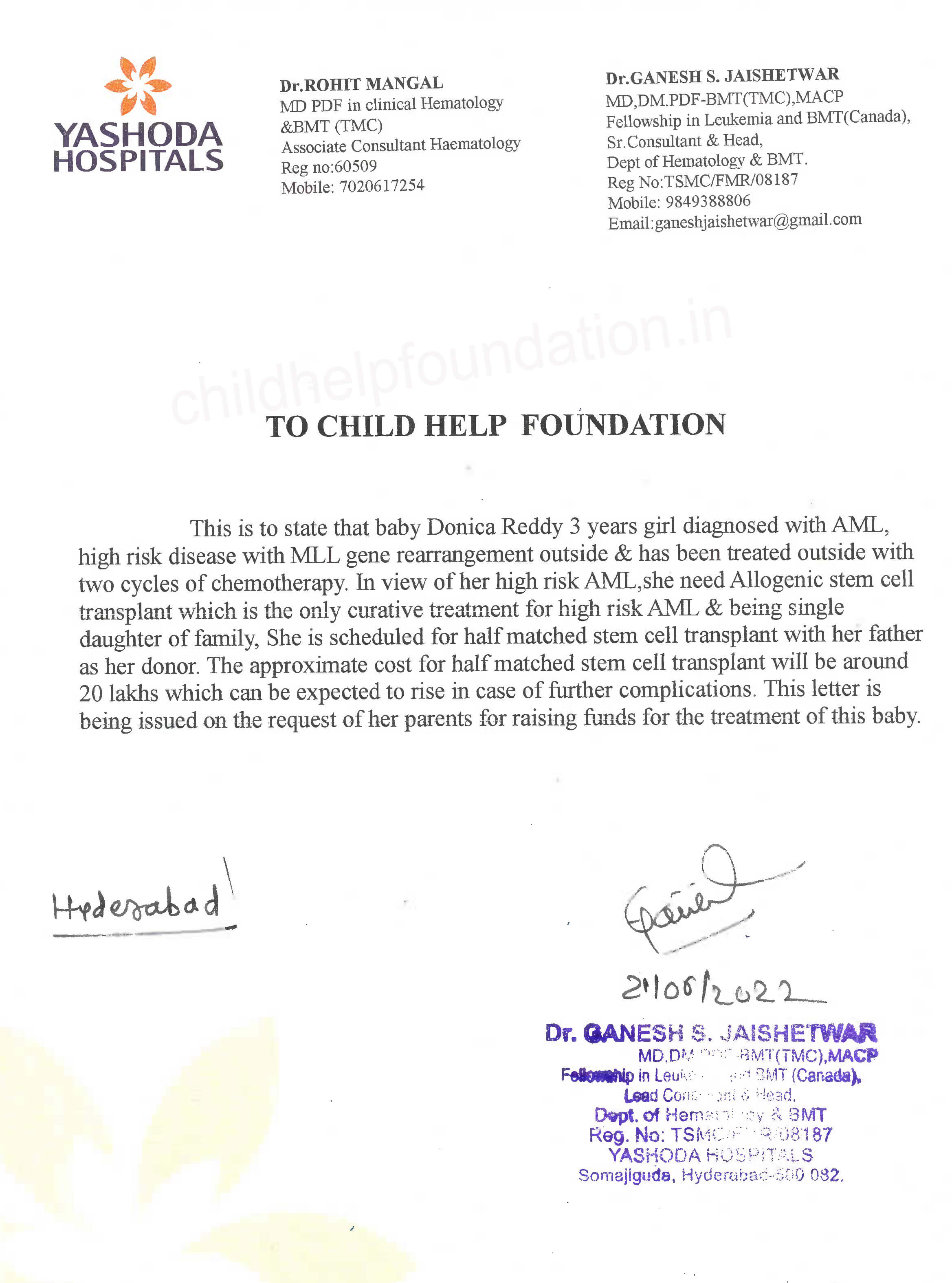 2022-12-26 11:26:23

Donica is currently at home ,Would be Visiting the Hospital after 15th Jan 2023

2022-12-21 10:34:20

Donica would be Visiting the Hospital on the 26th For her Medical Follow ups

2022-12-15 14:24:31

Donica would be Visiting the Hospital on the 24th or 25th For her Medical Follow ups

2022-10-11 10:49:44

Donica is currently at home,She would be Visiting the Hospital on the 13th Oct for her Medical follow up

2022-10-06 11:18:00

Donica is currently at home ,she would be visiting the hospital on the 10th Oct for her Medical Follow ups

2022-10-03 15:53:28

Donica would be visiting the Hospital Today for her injections and follow ups.

2022-09-29 15:35:54

Donica visit the Hospital for her followup

2022-08-12 11:38:06

Donica has discharged will be on followups.

2022-08-09 10:07:23

Donica is most likely to get Discharged either by today evening or tomorrow,

2022-07-21 17:38:05

Donica is administered for her Chemo for past 5 days

2022-07-14 10:19:27

Donica Admitted for 7 days Chemo

2022-07-19 10:43:07

Donica has her dose of Chemo Session today

2022-07-12 11:28:34

Donica is admitted in Hospital starting with her high Degree Chemo procedure.

2022-07-12 11:19:03

Donica in Yashoda Hospital for chemo. procedure