Crespo lost his childhood to a Spinal Deformity. Help him!
Crespo lost his childhood to a Spinal Deformity. Help him!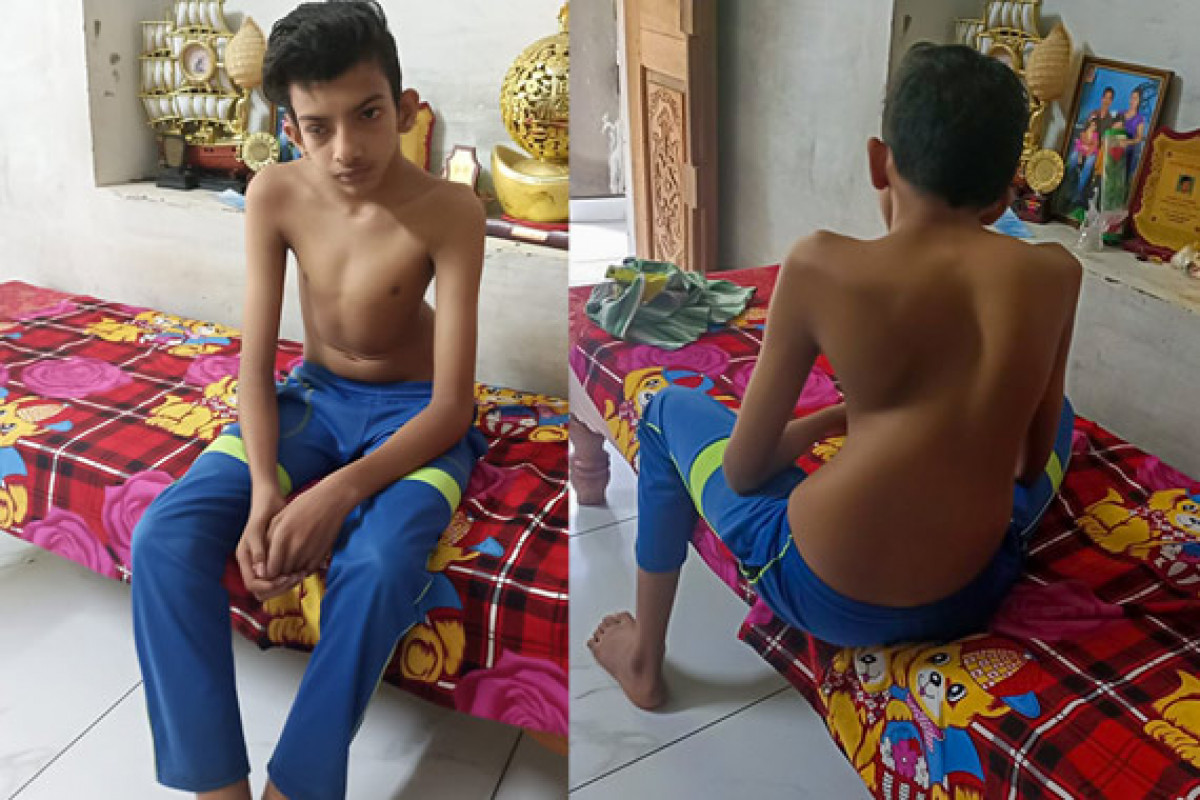 "I feel so helpless. My son is suffering since birth and it pains me to see that he is unable to live a normal childhood. We have been running from one hospital to another since forever. As the amount required is huge, I request you to contribute towards the treatment and help during this time of need. Please help me to save my child. Once we reach the target, we will still require additional funds to help with his eye surgery. Each contribution, big or small, will go a long way."
- Mr. Robert ;(Father)
Crespo Robert is a 13-year-old boy from Kerala. He has been suffering from Severe Scoliosis of the Spine, multiple vertebral and rib anomalies (a condition of spine deformity) as well as eye disability since birth. He is the first child of Mr. Robert and Mrs. Mary Sonia. He has a nine-year-old younger sister. His father is a fisherman earning up to Rs. 5000/- per month as and when the season for fishing is favourable. And his mother is a homemaker.
When Crespo was 10 months old, the family came to know about his eye disability. He underwent two surgeries to correct his eyesight. The family had to mortgage their house to arrange the medical expenses. As he was recovering from the surgery, things took a turn for the worse. He started suffering from severe back pains and struggled to breathe. Once again, he had to visit the hospital. His X-ray results showed spinal deformity which was existing since birth, but the parents were unable to detect it until he turned 13. Unfortunately, this was not the end of his misery and pain. He suffers from a bacterial infection in his eyes for which he may need to undergo eye surgery.
Crespo urgently needs to undergo Major Spine Surgery to correct his spinal deformity, he is seeking treatment in the Medical Trust Hospital, Kerala. The family has done all they can to gather the total amount required for the surgery, but Rs. 7,00,000/- (Seven Lakhs Only) is a huge amount. He still needs to undergo another eye surgery for which more funds will be required.
Mr. Robert is the only earning member in the family who cannot afford such a massive amount. Due to the nature of his job his income is not fixed. Crespo has been through and this surgery is his one chance at a normal life. The family is in desperate need of help. Please, help them save Their Son's Life.
How Can You Help?
-You can Donate to the Fundraiser
-You can share Crespo Robert's story on Facebook and WhatsApp so that their story reaches to more people like you who will impact her life
-You can Volunteer to Raise Funds and save Crespo Robert's life.
50% Tax Exemption under 80(G)
FUNDS DONATED WILL BE USED FOR Crespo Robert's TREATMENT
Kindly also share the fundraiser with your family and friends and help them to reach the goal. We will be grateful for your help!
Supporting Documents
2022-09-20 09:51:43

Crespo's surgery is done. He is shifted to general ward

2022-09-09 11:58:44

Crespo will be admitted today and surgery willl take place after 2 to 3 days.

2022-09-01 17:56:40

Crespo will be admitted on 12th september and will be operated on 14th September.

2022-08-23 12:29:24

Crespo's surgery is planned on 29th August.

2022-07-21 17:38:49

Crespo Robert, on 21st they have visited the hospital and did the needed tests, no issues found, but when anesthesia doctor consulted, there was some problem in breathing so suggested to do some exercises.