Help a 10-day old baby to survive premature birth complications
Help a 10-day old baby to survive premature birth complications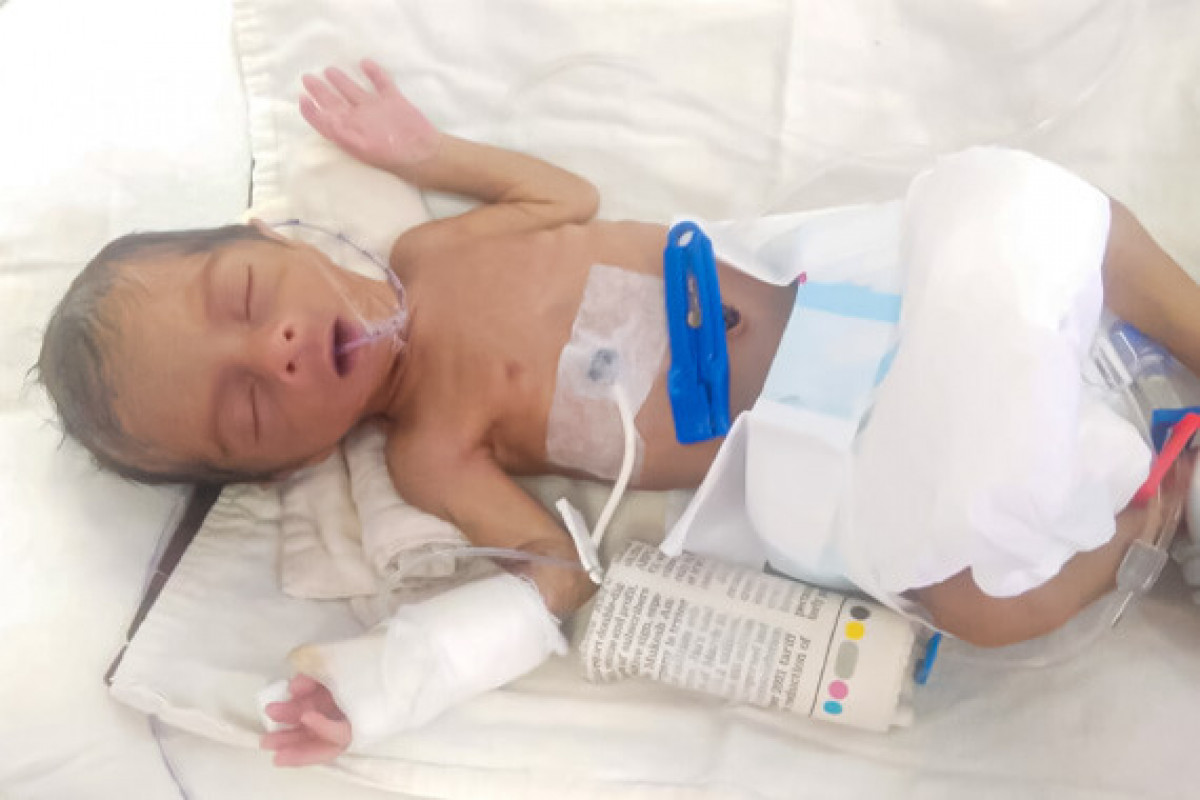 "I was so scared when I learned that there is an urgent need for an operation to save my child. I thought he would not survive but with God's blessings, he did. I wish I could give him my life and make him survive. We have spent all our savings during my delivery and are left with nothing. His life is in your hands now. Please help us!" -
Pooja ; (Mother)
Mr. Rambali and Mrs. Pooja are from Srikakulam, Andhra Pradesh. Their happiness knew no boundaries when they got to know that they were pregnant with their first child. They could not wait to welcome their bundle of joy home.
But fate had to show something unfortunate to them. During the seventh month of pregnancy, Pooja suffered from blood pressure fluctuations. When consulted with doctors they suggested an urgent C-section delivery as a prolonged pregnancy was dangerous for the baby and the mother. Pooja gave birth to a premature baby boy on 12th May 2022. The baby's birth weight was 880 grams. The baby has been under NICU support in Vijaya Marie hospital and Education Society, Hyderabad. He suffers from extreme prematurity along with sepsis (a condition that occurs when the body's response to an infection damages its tissues), and jaundice.
The doctors have advised continuing the NICU treatment for a few weeks for the baby to survive on his own. The estimated cost of the treatment is ₹ 2,00,000/- (Rupees Two Lakhs Only). Mr. Rambali is a car driver and earns up to ₹ 15,000/- a month. He is the only breadwinner in the family of five. He has to look after the whole house and support all the expenses alone. The amount for his son's treatment is beyond his financial abilities. Please help the family in their times of distress.
How Can You Help?
-You can Donate to the Fundraiser
-You can share B/o Pooja's story on Facebook and WhatsApp so that their story reaches to more people like you who will impact his life
-You can Volunteer to Raise Funds and save B/o Pooja's life.
50% Tax Exemption under 80(G)
FUNDS DONATED WILL BE USED FOR B/o Pooja's TREATMENT
Kindly also share the fundraiser with your family and friends and help them to reach the goal. We will be grateful for your help!
Supporting Documents