5-Year-Old Dharmik cries out for help, Please save him from Leukemia
5-Year-Old Dharmik cries out for help, Please save him from Leukemia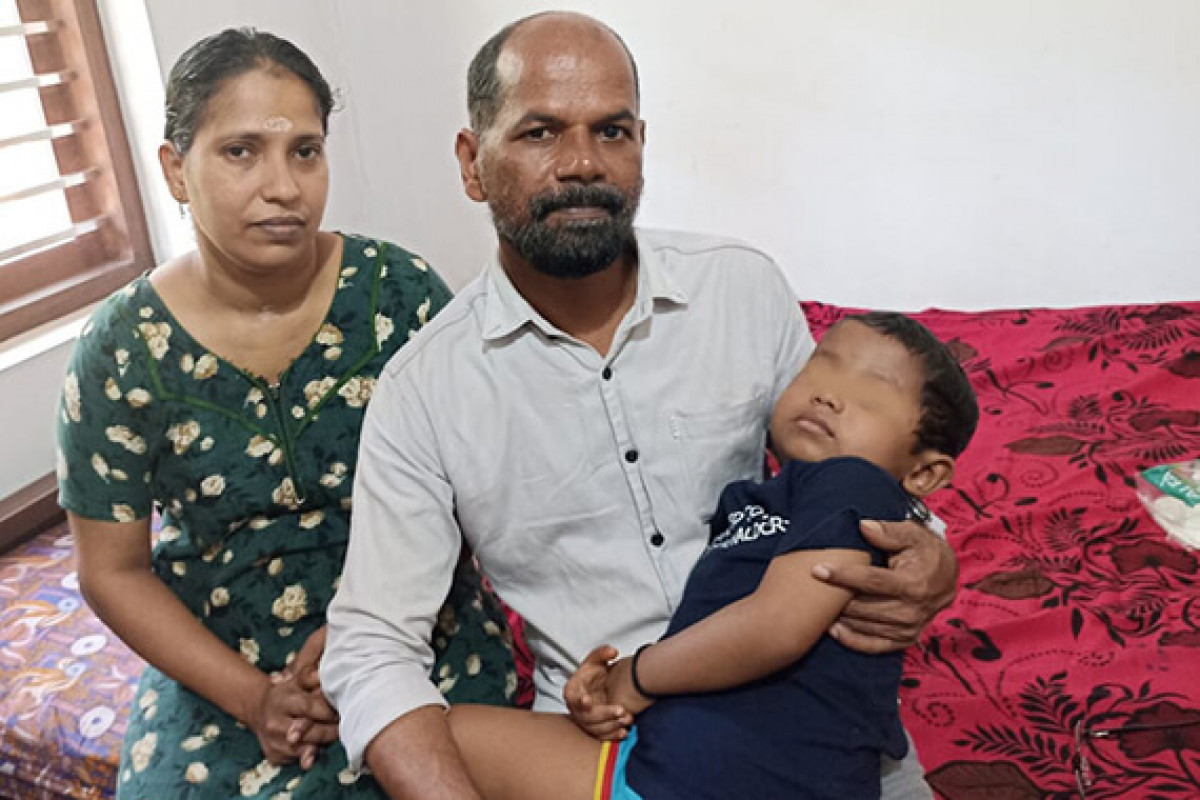 "Happiness has withered away from my son. For more than three years, he has known nothing but suffering. I want to help him, but my hands are tied behind by the shackles of poverty. Please save my son from this gruesome disease."-
Roopa ; (Mother)
In 2020, Dharmik was suddenly struck by weakness and low appetite. After taking him to the doctor, his parents received a cruel blow to their hearts. It was found out that Dharmik was suffering from 'Relapsed Refractory High-Risk B – Acute Lymphoblastic Leukaemia.' Doctors at Aster MIMS Hospital - Calicut, have said that Dharmik would have to undergo a bone marrow transplant, but the transplant comes with a cost of Rs.20,00,000/- (Rupees Twenty Lakhs Only).
Dharmik's father works as a mason and earns a daily wage. Somehow, he has managed to pay Rs 35 lakhs for his son's chemotherapy and immunotherapy by borrowing from friends and family members. But, he has run out of sources right now, and he needs your help.
Please come to the rescue of Dharmik. Donate as much as you can to help him bid farewell to leukaemia.
How Can You Help?
-You can Donate to the Fundraiser
-You can share Dharmik's story on Facebook and WhatsApp so that their story reaches to more people like you who will impact her life
-You can Volunteer to Raise Funds and save Dharmik's life.
50% Tax Exemption under 80(G)
FUNDS DONATED WILL BE USED FOR Dharmik's TREATMENT
Kindly also share the fundraiser with your family and friends and help them to reach the goal. We will be grateful for your help!
Supporting Documents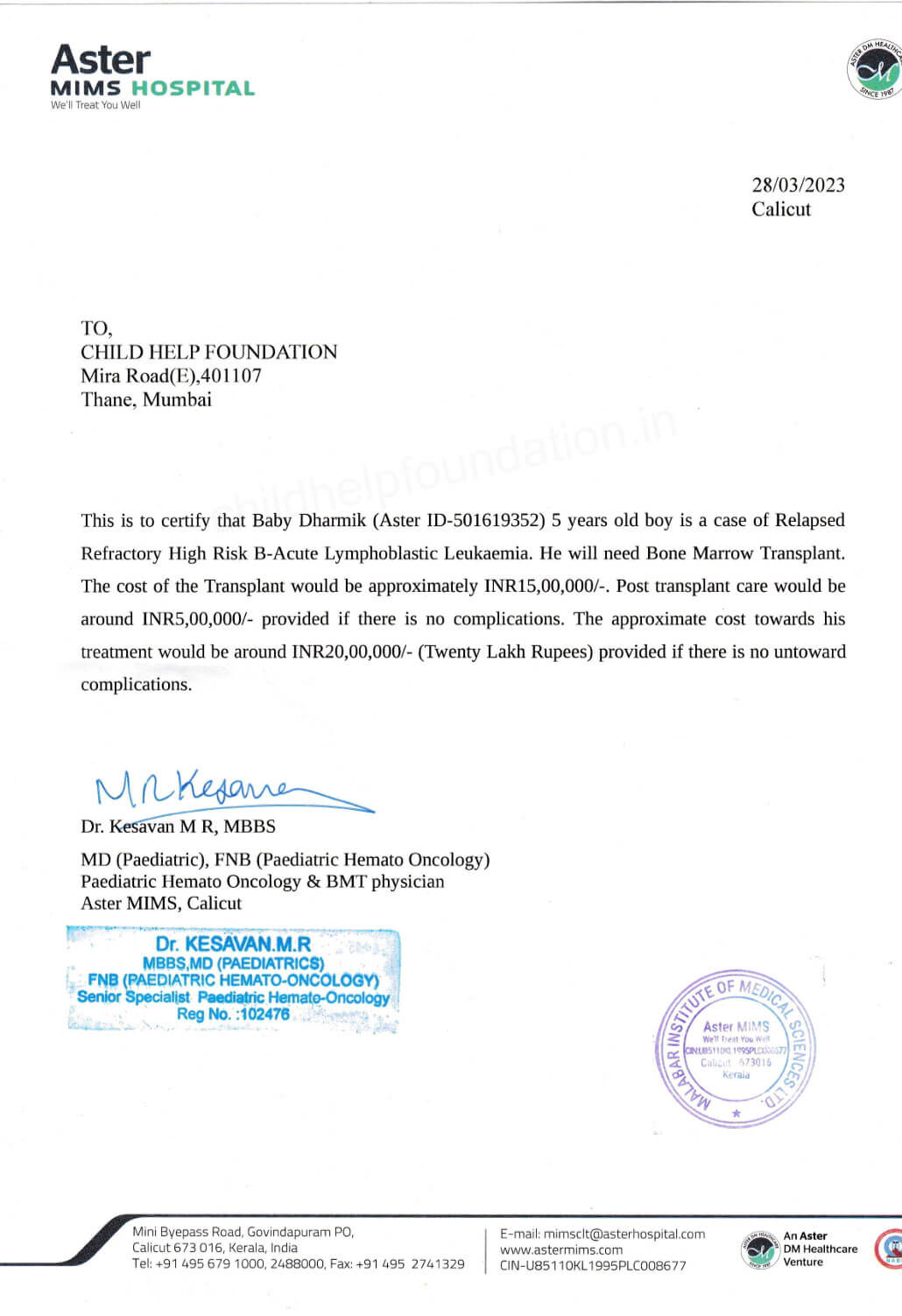 | Name | Donate Amount | Date |
| --- | --- | --- |
| anonymous | INR 2500 | 2023-05-27 15:32:55 |
| anonymous | INR 5000 | 2023-05-26 13:15:59 |
| anonymous | INR 1000 | 2023-05-17 21:11:50 |
| Somnath Talukdar | INR 1000 | 2023-05-17 12:19:38 |
| Sourav Pal | INR 1000 | 2023-05-08 14:55:45 |
| Arun Joshi | INR 1000 | 2023-05-06 21:30:08 |
| Thaneshwari Devi | INR 1100 | 2023-05-04 05:50:59 |
| KARTHICK NATARAJAN | INR 5000 | 2023-04-27 12:11:49 |
2023-05-30 10:40:15

Dharmik would be visiting the Hospital on his regular basis for Medical follow ups.

2023-05-12 16:08:30

Dharmik has been admitted in the Hospital due to Stomach Infection

2023-04-28 11:28:03

Dharmik is currently admitted in the Hospital for his Radiation ,and Chemotherapy and after the reports are clear ,His BMT would be dated

2023-04-25 17:35:09

Dharmik is currently admitted in the Hospital for his Radiation ,and Chemotherapy and after the reports are clear ,His BMT would be dated

2023-04-20 11:22:39

Dharmik is currently admitted in the Hospital for his Radiation ,and Chemotherapy and after the reports are clear ,His BMT would be dated

2023-04-18 11:08:21

Dharmik is currently admitted in the Hospital for his Radiation ,and Chemotherapy and after the reports are clear ,His BMT would be dated