Prayag is suffering from Gaucher Disease. Please Help Him!
Prayag is suffering from Gaucher Disease. Please Help Him!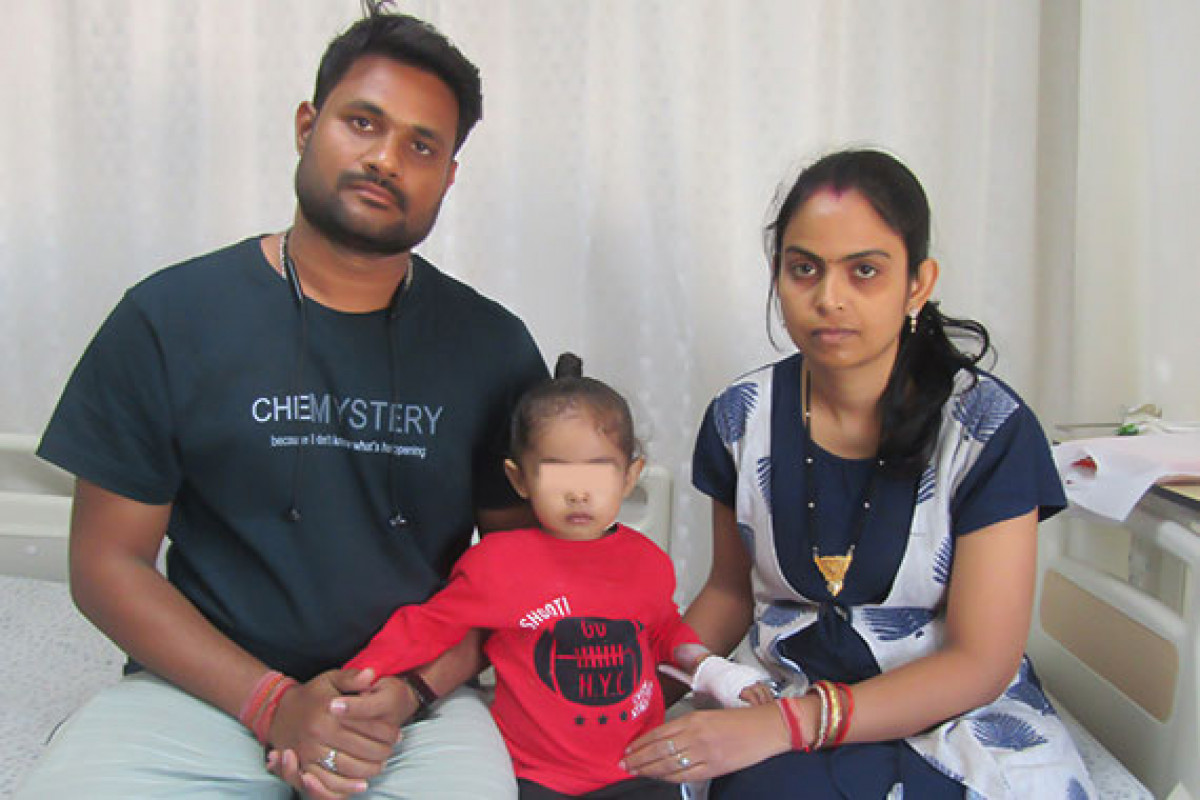 "We have been visiting hospitals every month with our ailing child for the past one year. Sometimes, to get him medicated, sometimes for liver tests, sometimes for blood tests and also genetic tests. I do not know how my little child has been living through all of these. He is only 2 years and 5 months old.Prayag's suffering does not end here, he has to undergo a stem cell transplant. Please help us get him treated."-
Bindiya Rani Dash ; (Mother)
Prayag Dutt Mishra is the only son of Mr. Nivas Ranjan Mishra and Mrs. Bindiya Rani Dash of Nuapada, Odisha. The father single handedly manages to look after his parents, wife and son. One year ago, the parents noticed that Prayag's stomach was swollen and his weight was consistently reducing. They reached out to the nearby doctor and found that his spleen had increased. They were recommended to a hospital in Visakhapatnam where they would pay monthly visits to medicate their son. When no improvement was shown in his health conditions, Prayag was referred to the Rainbow Children's Hospital in Hyderabad. He underwent liver tests and Bone Marrow Biopsy for identification of his illness. Finally, through genetic tests, it was found out that Prayag is suffering from a condition called Gaucher disease.
Gaucher disease is an inherited metabolic disorder in which deficiency of the enzyme glucocerebrosidase results in the accumulation of harmful quantities of certain fats in the spleen and liver. It causes serious complications in the form of bruising, anemia, lung problems, seizures, enlarged liver and spleen.
The doctors at the Rainbow Children's Hospital, Hyderabad have suggested Blood and Platelets Transfusion and Hematopoietic Stem Cell Transplantation for Prayag, the estimated cost of which is Rs. 24,00,000/- (Rupees Twenty Four Lakhs only). The family has already mortgaged the piece of land they owned and seeked help from their friends for all the tests and treatments till date. They have no means left to arrange such a huge amount of money. They need your help to save their only child.
We have been at the hospital for the past few days, and every day we see a new complication in our child's case. This transplantation is our last hope for him but we need your support. I feel so helpless as a father. Please save my son. - Nivas Ranjan Mishra (Father)
How Can You Help?
-You can Donate to the Fundraiser
-You can share Prayag's story on Facebook and WhatsApp so that their story reaches to more people like you who will impact his life
-You can Volunteer to Raise Funds and save Prayag's life.
50% Tax Exemption under 80(G)
FUNDS DONATED WILL BE USED FOR Prayag's TREATMENT
Kindly also share the fundraiser with your family and friends and help them to reach the goal. We will be grateful for your help!
Supporting Documents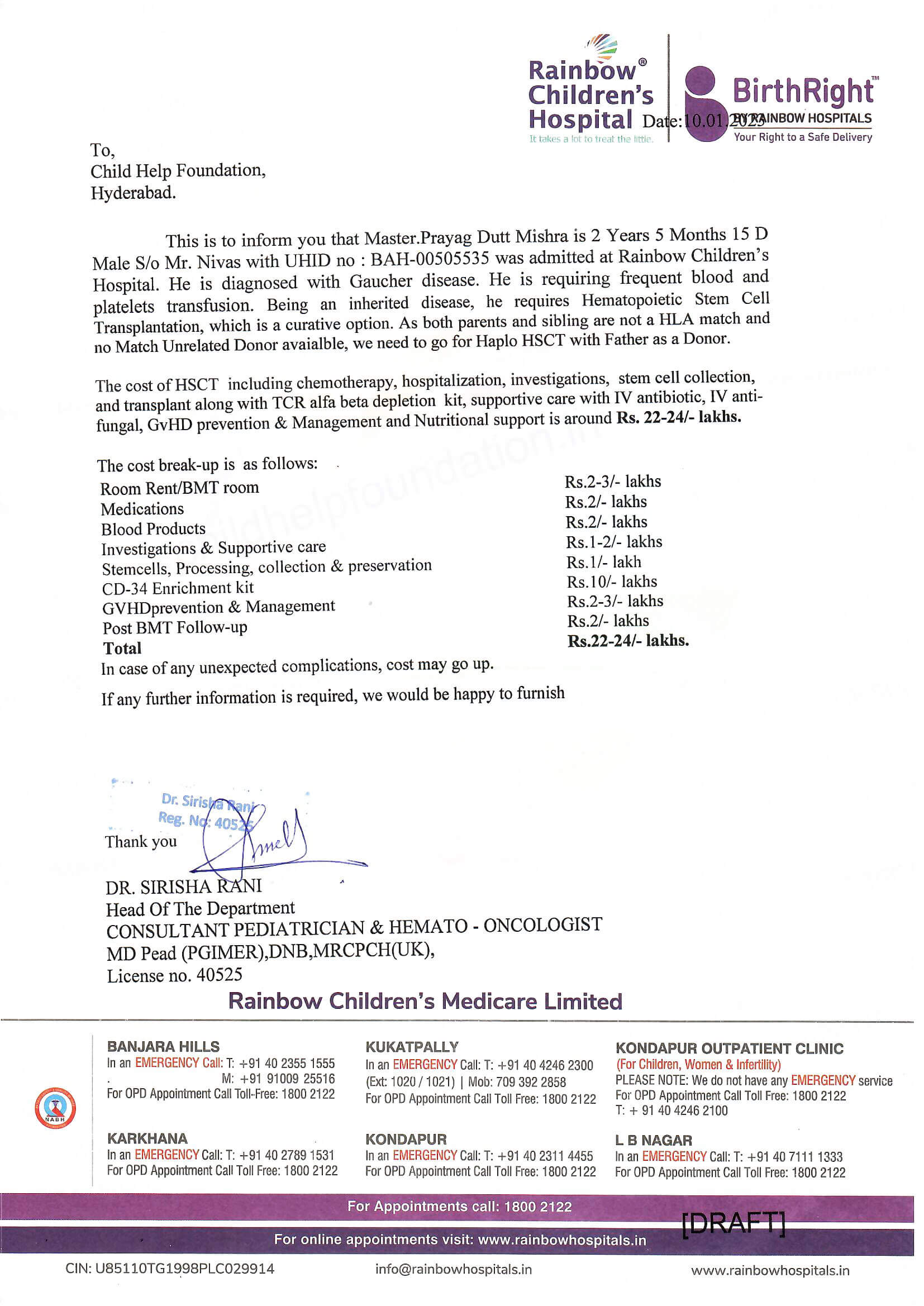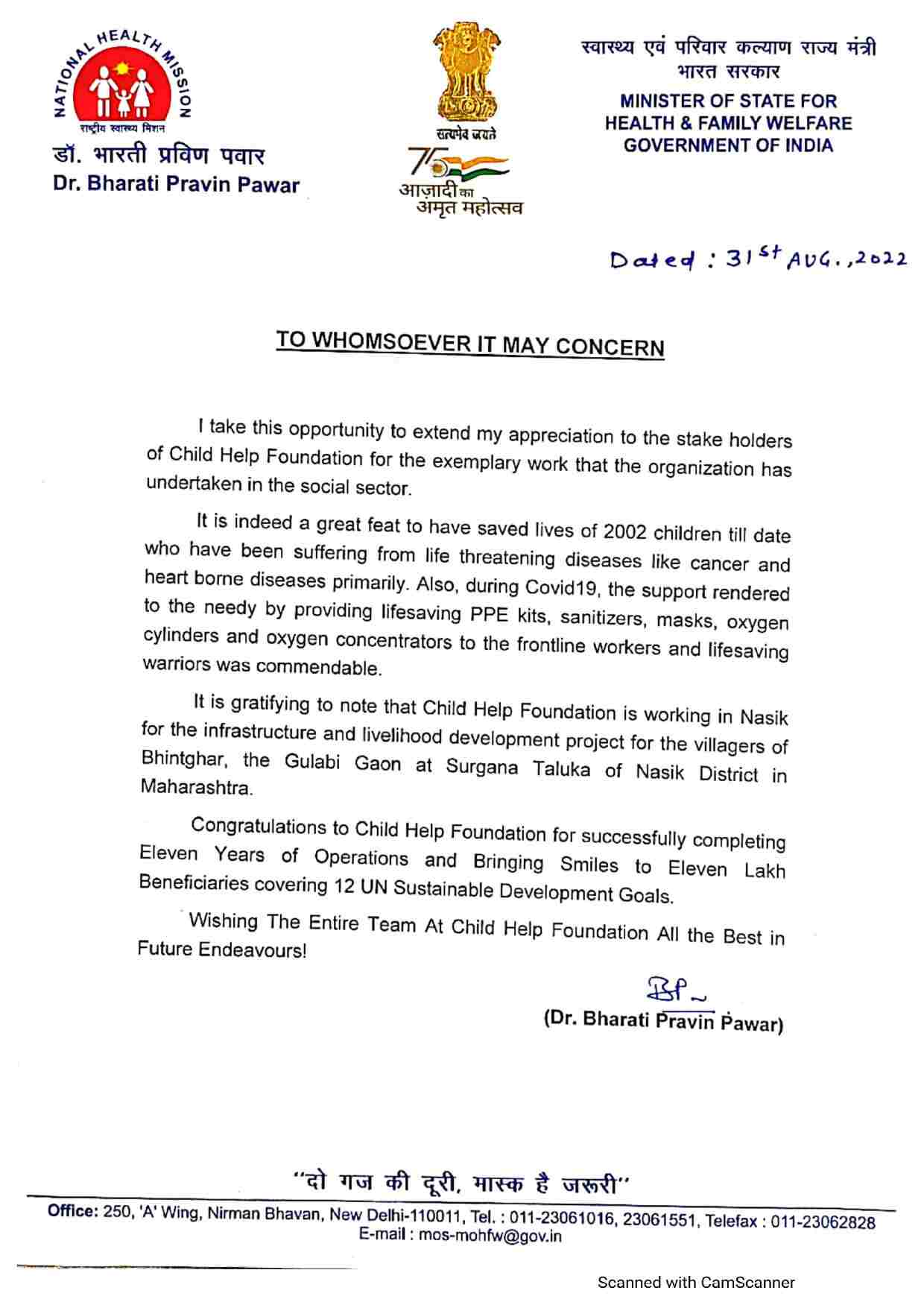 | Name | Donate Amount | Date |
| --- | --- | --- |
| Vishal Sharma | INR 301 | 2023-02-07 19:02:53 |
| Sushant Patkar | INR 500 | 2023-02-07 16:06:09 |
| anonymous | INR 300 | 2023-02-06 11:51:10 |
| anonymous | INR 500 | 2023-02-04 20:22:12 |
| FEBA ANN | INR 1000 | 2023-02-02 16:32:33 |
| Anjuna R | INR 500 | 2023-02-02 04:32:46 |